Say cheese: Indian recipe provides a low-sodium alternative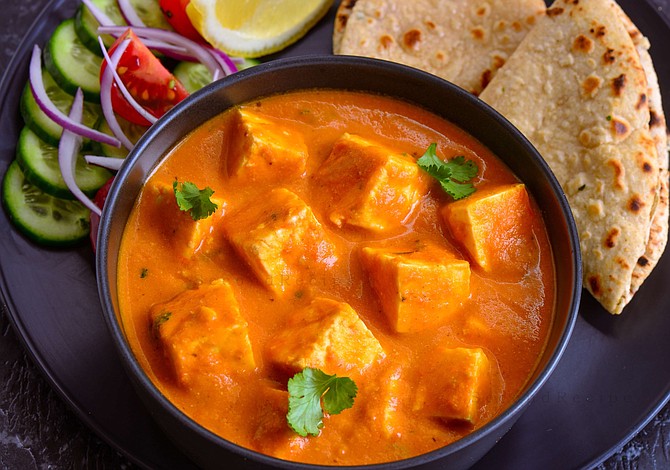 When you follow a low-sodium diet, cheese can pack a salty punch. In fact, it's one of the top 10 foods contributing salt to the American diet, and salt is a big problem for people who want healthy hearts and kidneys. But there are great low-sodium choices. You just have to know where to look.
Almost all cheeses, with the exception of Swiss, mozzarella, and fresh cheeses like farmer's cheese or Mexican queso fresco, have lots of salt. Some aged cheeses like cheddar have as much as 200 mg per ounce. Processed cheeses, like American singles, can have as much as 600 mg per ounce. That's a hefty hit against the daily 1,500 mg to 2,000 mg recommended for all Americans.
To help cut salt, we have been playing around with a soft cheese from India called paneer. Most brands are very low in sodium. The Nanak brand from Canada has only 5 mg of sodium per ounce. That is really low!
You can buy paneer in international grocery stores, Costco carries the Nanak brand, or you can make it following this simple recipe below. You can also substitute extra firm tofu in both of these recipes.
Homemade Paneer
1/2 gallon whole milk
2-3 teaspoons citric acid (available online or at upscale grocery stores and health food stores)
Heat milk in a pot over medium heat, stirring frequently, until it begins to boil. Reduce heat and add citric acid 1 teaspoon at a time, stirring until the curds and whey separate. Remove from heat and allow to cool 5-10 minutes. Pour milk into a strainer lined with cheesecloth. Allow the whey to drain, and then press curds firmly to remove additional liquid. Press curds into a block and chill for two to three hours before cutting into cubes.
Butter Paneer
1 pound paneer, cubed
1 stick butter
4-5 cardamom pods
2 cups low-sodium canned tomatoes
1/4 cup chopped or grated fresh ginger
1/4 cup minced or pressed garlic
1/2 cup chopped onion
1-2 teaspoons coriander powder
1 tablespoon cumin seeds
1 small diced green chili or 1 can diced chili (optional)
1 teaspoon curry powder
1/2 cup light coconut milk or yogurt
Heat half of butter in pan and fry paneer until golden brown. Set aside. Add remaining butter to pan and melt. Add onions, garlic, ginger and chili and cook until softened. Pour in coriander and cumin and let cook a few minutes, until seeds start popping. Add tomatoes and simmer 10 to 15 minutes. Carefully transfer to blender and puree until smooth. Return paneer and sauce to the pan and heat through. Add curry powder and coconut milk or yogurt. Cook two more minutes, remove from heat, and serve.
Makes about six servings.
Nutrition information:
Calories: 301
Carbohydrates: 12 g
Protein: 8 g
Sodium: 233 mg
Palak Paneer
2 pounds spinach
2 large onions, peeled and chopped
3 medium tomatoes, chopped
1-inch piece ginger, peeled and chopped
8 garlic cloves, peeled and chopped
2-3 cayenne peppers (optional), stems and seeds removed