For a small town, this island is big on appeal
Travels with Deb
Debbie Stone | Mar 26, 2018, 6 a.m.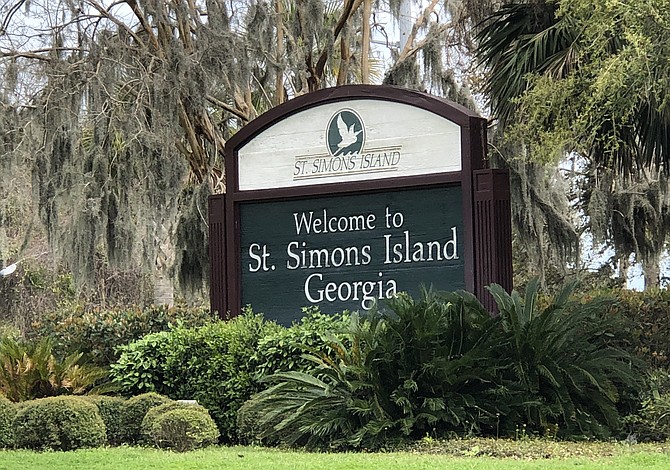 When a destination continues to receive recognition and glowing accolades in major publications, it piques my curiosity. Such was the case with St. Simons Island, one of Georgia's Golden Isles. USA Today named this slice of paradise one of the "Best Coastal Small Towns," while Travel + Leisure distinguished it as "America's Favorite Beach Town." Located on the southern part of Georgia's scenic coastline, St. Simons has been attracting vacationers in the know for generations. This enchanting island boasts breathtaking views, sandy beaches and beautiful marshlands, along with a temperate climate and unhurried charms. And if that's not enough, add historic landmarks, museums, eclectic shops, exceptional restaurants and accommodations to suit every budget.
Though it's only 12 miles long and about 3 miles wide (roughly the size of Manhattan Island in New York), St. Simons packs a host of attractions and activities for all ages. Hop on a Colonial Island Trolley Tour for an orientation to the island and its colorful history, culture and geography. Your enthusiastic and knowledgeable guide, Captain Rod, will regale you with details about significant sights and share stories about colorful events in the area's past. The ninety-minute tour covers a whopping 500 years of history dating back to Spain's claim in the region.
Take time to explore the island's historical roots with visits to such places as the St. Simons Lighthouse, Fort Frederica, Bloody Marsh Battle Site, Hamilton Plantation Tabby Slave Cabins, Christ Church, Lovely Lane Chapel and the Avenue of the Oaks. The lighthouse that stands today was built in 1872 and measures 104-feet tall. Operated by the U.S. Coast Guard, it still serves as an active aid to navigation. Climbing the 129-step, spiral staircase to the top is well worth the effort, as you'll be rewarded with panoramic vistas of the coast. Make sure you stop in the attached Keeper's Dwelling, which is also the St. Simons Lighthouse Museum. This two-story Victorian building was the home for lightkeepers until the 1950s. You'll learn about life as a keeper, along with information about the lighthouse and its background. The first structure was actually completed in 1810, but then later destroyed by Confederate troops during the Civil War to prevent Union forces from using it.
There are rumors that the lighthouse might have been haunted at one time by Frederick Osborne, a past keeper who was shot and killed by his assistant in 1880, during an argument possibly over chickens. Flash forward to the early 1900s when keeper Carl Svendsen, along with his wife and daughter, arrived to tend to the lighthouse. They believe that their family dog, Jinx, may have had a ghostly encounter. The animal was often spooked by mysterious footsteps in the tower and hid each time he heard them. Svendsen and his wife also heard the strange noises and decided they must belong to Osborne's spirit.
You'll probably be surprised to learn that this tiny island is home to a National Monument. Fort Frederica was established in 1736, three years after the founding of Savannah. General James Oglethorpe had the bastion created to protect and defend Britain's southern boundary from Spanish raids. Several dozen men, women and children built the structure and the town of Frederica, and by the 1740s, it was a thriving village of about 500 citizens. Colonists from England, Scotland and the Germanic states came to the site to support the endeavor. Georgia's fate was decided in 1742 when Spanish and British forces clashed on St. Simons Island. Fort Frederica's troops defeated the Spanish in the Battle of Bloody Marsh, ensuring Georgia's future as a British colony. When the Spanish no longer threatened the area, the government disbanded the garrison at the fort. Soon the village fell into economic decline and by 1755, it was mostly abandoned. Today, you can walk around the site and see its archaeological remnants, as well as be entranced by the lacy, moss-draped trees that dot the setting. Drop by the visitor center for exhibits and a short film.