When life gives you lemons…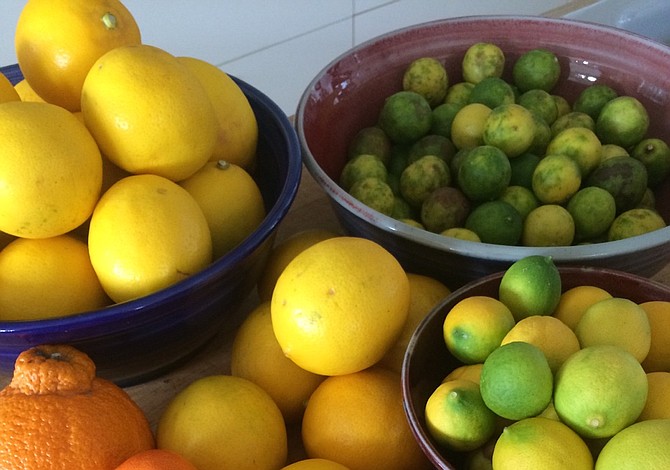 Citrus fruits are one of the delights of winter, ripe and at their best and cheapest when other fruits are not. They can add a shot of sunshine to your meals when the weather is grey and dreary! Because citrus fruits add both a sweet and sour note to foods, you won't notice the absence of salt; leaving out the deadly killer is kind to your health and your family!
Healthy Snacks
From the smallest kumquat to the huge Pumelo, all citrus fruits are known for their high vitamin C content. A large orange gives you enough vitamin C for the whole day! This dose of vitamin C also keeps your immune system working and helps ward off winter colds. Sorry Linus Pauling, more than this doesn't boost your immune system.
In fact, taking large doses of vitamin C in the form of supplements puts you at much greater risk of kidney stones. If you stop taking a large dose all at once, you can experience "false scurvy," including bleeding gums, decreased immunity and poor wound healing. The moral of the story is just because something is good for you, doesn't mean more of it is better.
Cooking with citrus
The acidity of citrus fruits make them perfect for marinades. Not only do they add flavor, but their acidity tenderizes meat, fish and poultry. Use citrus along with fresh tarragon, parsley or thyme, and a little olive oil to marinate your meat for half an hour, and then broil, bake, grill or pan fry. Lemon or lime juice can replace vinegar in salad dressings, providing a sweeter, less astringent taste. You can also stir either into mayonnaise with a little grated peel (called zest) to make a citrus mayo. Citrus fruit works well in sweet dishes, too. Try them in cakes, cookies, or breads.
Orange and Avocado Salad
4 large juicy oranges (or grapefruit, pumelo or tangerines)
2 small ripe avocados, peeled and pitted
½ small pomegranate (optional)
2 teaspoons cardamom pods or ground cardamom
3 tablespoons olive oil
1-2 tablespoons honey
½ tsp ground allspice
1 tablespoon lemon juice
¼ cup chopped fresh mint, (optional) watercress or arugula or lettuce leaves to garnish
Cut the skin and white membrane off the oranges. Working over a bowl to catch the juice, cut between the membranes and remove segments. Slice avocados and toss immediately with oranges to preserve their color. Remove seeds from pomegranate and add to orange/avocado mixture. Add chopped mint.
Crush cardamom pods using a mortar and pestle; pick out and discard the pods, or use ground cardamom. Mix the cardamom seeds with the remaining ingredients and toss with dressing. Garnish with watercress.

Spaghetti with Asparagus, Lemon and Basil
1 pound asparagus (if not in season, use broccoli)
3-4 tablespoons olive oil
4 tablespoons fresh lemon juice
Zest of one lemon
12 ounces dried spaghetti
2 cloves garlic, chopped
¼-½ teaspoon dried chili flakes
½ cup fresh basil leaves
1 ounce Parmesan cheese, grated.
Heat water for cooking pasta. Add spaghetti and boil for 10-12 minutes, or according to package directions. While water is starting to boil, heat broiler to 450-500 degrees. Spread oil on baking dish, add asparagus, chopped garlic and chili flakes. Stir or shake until covered with oil. Cook about 5-7 minutes, until charred and tender. Remove from oven and sprinkle with lemon juice. Drain pasta, reserving about ¼ cup of cooking liquid. Add to asparagus along with fresh basil, remaining lemon juice, zest and parmesan. Serve immediately with extra parmesan.
The information in this column is meant for people who want to keep their kidneys healthy and blood pressure down by following a low-sodium diet. In most cases, except for dialysis patients, a diet high in potassium is thought to help lower high blood pressure. These recipes are not intended for people on dialysis without the supervision of a registered dietitian.
[Katy G. Wilkens is a registered dietitian and department head at Northwest Kidney Centers. A recipient of the Susan Knapp Excellence in Education Award from the National Kidney Foundation Council on Renal Nutrition, she has a Master of Science degree in nutritional sciences from the University of Washington. See more of her recipes at www.nwkidney.org.]