Cruise from the Emerald Isle to the Land of Fire and Ice in ultimate style
Travels with Deb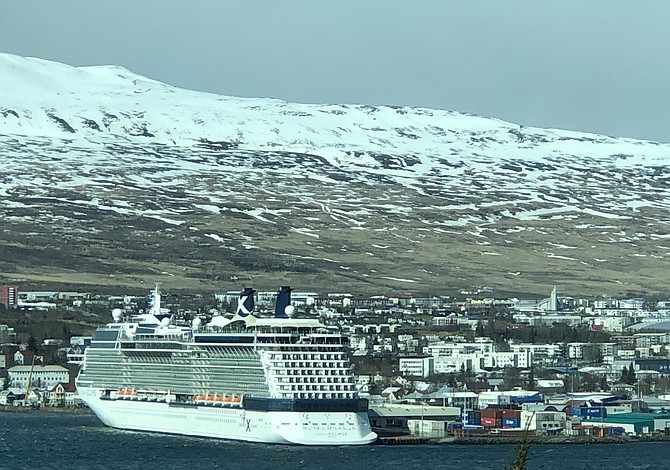 I am easily enamored with all things Irish and my affinity with the country and its people is apparent as soon as I step on the soil of this magical, mystical isle. I adopt O'Stone as my new last name, attempt to speak with a lilting brogue, drink Guinness for breakfast and can belt out the words to "Molly Malone" with the best of them, albeit off-key. Sadly, my strong Germanic genes and Yank accent are dead giveaways, making my transformation to an Irish lass highly improbable. But, hey, you got to give me credit for trying!
Although I've been to Ireland a few times over the years, I've never gone via a cruise. This time, I chose to do a ten night Ireland and Iceland trip with Celebrity Cruises aboard the Celebrity Eclipse. The cruise line has a stellar reputation in the industry and has received many notable awards and honors. The company is known for its sleek ship design, culinary excellence, outstanding service, well-appointed cabin accommodations, surfeit of amenities, extensive menu of destinations that span the globe and select shore excursions that allow passengers to explore ports of call in a myriad of ways. All of these distinctions factored in to my decision to sail with the company. Additionally, I was intrigued with the unique itinerary of this particular cruise, as it paired two countries together that are not often visited in one trip. Though very different in many aspects, these destinations share a few commonalities. They are both islands with stunning landscapes, amicable and welcoming people, colorful histories and weather that has a mind of its own.
The cruise began in Dublin, the capital and largest city in Ireland. Described by National Geographic as having a "friendly, village vibe," this is a place that's easily explored at your own pace. Take a historical guided walking tour to get an introduction to the town's stirring past. Then hit the highlights, including Trinity College, Ireland's most famous school, which boasts the treasured Book of Kells, a highly significant piece of art from the Dark Ages; 700-year-old Dublin Castle; the National Museum with its collection of Celtic artifacts from the Stone Age; Kilmainham Gaol, an historic jail once used by the British as a political prison, now a museum that tells a moving story of the suffering of the Irish people; Christ Church Cathedral; and the Irish Emigration Museum.
Stroll through St. Stephen's Green, a lovely oasis in the middle of the city, shop 'til you drop on pedestrian-friendly Grafton Street, grab some fish and chips or a hearty bowl of seafood chowder, then head to Temple Bar, a colorful pub district and a great spot for live music.
The pub has always been the social focus of Irish culture and it is one of Ireland's most popular attractions. In the Temple Bar area, there are plenty of options to imbibe and enjoy the tunes. However, if you want to learn about Irish music and visit authentic establishments in the city, join a Traditional Irish Music Pub Crawl. Led by two professional musicians who play the fiddle, guitar and bodhrán (Irish drum), you'll hear the story of Irish music and its influences on contemporary world music. And yes, having a pint or two in the process will only enhance this entertaining experience.