A Northwest Icon
George Washington of Centralia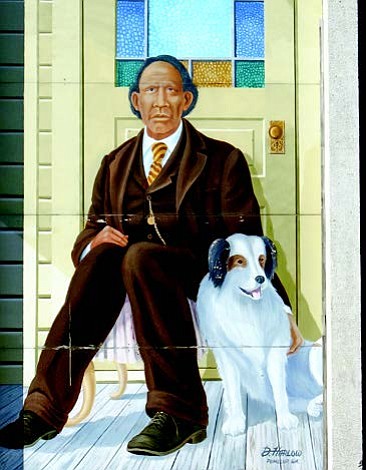 The history of the Pacific Northwest includes a fascinating chapter: the African-American founders of Centralia, a town about halfway between Seattle and Portland.
George and Mary Jane Washington founded Centralia on the northeastern edge of their 640-acre farm, laying out the streets and naming them in discussions around their kitchen table.
Mary Jane, originally from Louisiana, had African and Jewish heritage. She came to Centralia by way of Hawaii and Victoria, British Columbia. She named the streets that George laid out, and she picked names reflecting her faith (Pearl and Gold evoke the streets of heaven) and her Southern birth (Magnolia and Pine streets).
As they expanded the city — known at first as "Centerville" — they gave land to the city. A public park, known as George Washington Park in his honor, is now home to the Centralia library. They gave land to start churches (with George cutting & hewing the timber for the city's first Baptist church) and donated the city's first cemetery. George and Mary Jane helped found a beautiful seminary on the hill above Centralia, giving that part of Centralia — Seminary Hill — its name.
Most importantly, George supported his neighbors and town during hard times. He gave work to those in need; he gave food – buying wagon loads of rice and staples during hard times. He even gave away shoes when his neighbors were down and out. He refused to foreclose when people couldn't pay their bills. With quiet confidence, he told them he knew they would be good for it.
"I want to do right by my fellow men," he sold his stepson, Stacey Cooness. "And if I do, then I'll never lose anything by it."
He was beloved during his lifetime. When he died in 1905 at age 88 after a buggy accident, the mayor asked businesses to shut down in mourning. His funeral, in the church he helped build by hand, was the largest the city had ever seen.
George Washington's Life — a Remarkable Story
From narrowly escaping a life of slavery in Virginia to coming west on the Oregon Trail, Centralia's founder lived a life of adventure, difficulty and, ultimately, great success. He was born to a white woman of English descent and an African- American slave father, who was sold to a distant owner shortly after George's birth.
To save him from becoming a slave himself, George's mother made the heartbreaking decision to ask a married couple to raise her son as their own.
James and Anna Cochran did exactly that. They took George with them as they moved west with the frontier. George grew up like Daniel Boone, becoming a skilled marksman and learning to tan his own leather and sew his own clothes. His foster mother also taught him to love the songs in her big hymnal.
George went into business as a young man, but racist laws in Missouri derailed him time and again, and nearly sent him to jail. Amazingly, the Missouri Legislature passed a law excluding him from most of those laws. Still, he was not free to pursue his dreams, so he decided to head west.