Age-Friendly Discussion Groups: Social Participation
Staying Engaged at Any Age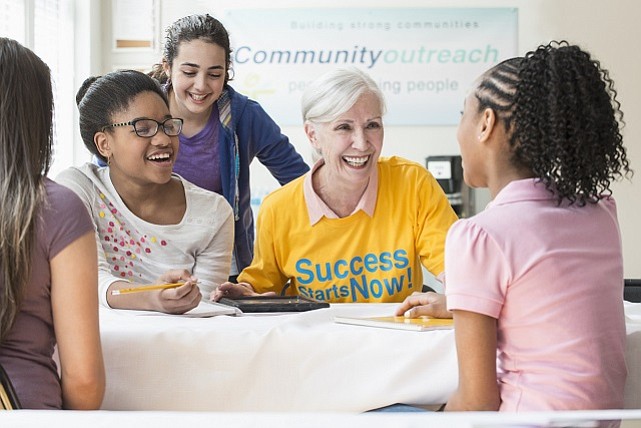 A collective effort supported by a variety of community members and organizations, MomentiaSeattle.org has a long list of activities for area residents hosted by a variety of collaborators. "The programs capitalize on the strengths of people with dementia," says Marigrace Becker at the UW Medicine Memory and Brain Wellness Center, who helps bring the Momentia concept to new communities. "Having opportunities to stay connected and stay engaged in things that bring you joy and meaning is so important."
In addition to positive outcomes for those who attend, these events also help battle negative perceptions of aging and stigma about dementia by connecting with communities and local businesses. One popular example is the Alzheimer's Café – a regular social gathering at a coffee shop or restaurant, with good food, fun and sharing among participants. Alzheimer's Cafes currently take place in King, Snohomish, Pierce and Thurston counties and typically meet on the same day and time each month. For a list, visit www.alzcafes.org.
Volunteering is a great way to make connections in your community. The Retired & Senior Volunteer Program (RSVP) connects people 55 and older to volunteer opportunities (www.rsvpwa.org or 206-694-6786).
Many are passionate about intergenerational volunteering, bringing older adults and school age kids together to share and learn from each other. Generation to Generation Seattle (Gen2GenSeattle.org or 425-753- 5600) is part of a national campaign designed to help those over 50 find ways to improve the lives of children and youth who need a champion in their corner. Volunteer opportunities include mentoring and tutoring students, becoming a Big Brother or Big Sister, and working with youth at art workshops.
"Older adults are a large, untapped asset," said Gen2Gen Seattle campaign director Jim McGinley. "They bring a wealth of experience and capability" to nonprofit organizations.
There are many more opportunities to get out and about in the community. Check out your local senior center for activities that foster social connections. Libraries often provide inclusive programs for all ages. Local parks and recreation departments and the YMCA offer healthy activities and outings. Faith-based groups are also a good resource for connecting with friends new and old.
Whatever is your preferred way to get out in the community, stay engaged! It's good for your health and happiness.
Discussion Questions
What is your favorite way to stay active and engaged with others?
What support do you need to make it easier to get out of the house and socialize with others?
What do you wish your city, neigh¬borhood, community knew about plan¬ning events that welcome older adults?
Have you volunteered in the past? What were your feelings about volunteering?
Have you, a family member or a friend experienced social isolation? How was the problem resolved?
How often do you reach out and invite a friend or loved one to socialize? What are those experiences like?

Age-Friendly Discussion Groups
Do you have a group to discuss topics of interest to the 50+ crowd? Look for this feature in every issue of Northwest Prime Time, brought to you by AARP Washington, King County Library System, and Aging and Disability Services–the Area Agency on Aging for Seattle/King County.