Fall under the spell of the nation's oldest city
Travels with Deb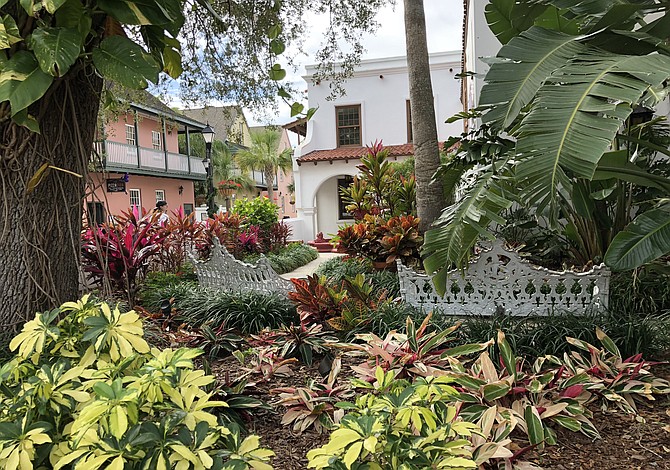 I greedily drank from the Fountain of Youth and patiently waited, but, alas, the wrinkles and crow's feet remained etched on my face. The magical spring that was said to restore the youth of anyone who drinks or bathes in its waters didn't have the powers of transformation I had hoped it would, but I could see how such a belief would motivate Spanish explorer Juan Ponce de Leon back in 1513. Imagine what it would be like to have the wisdom that comes with age and the vibrant exuberance that represents youth? No need for creams and lotions, or Botox and facelifts! The famed conquistador was so obsessed with discovering these special waters that he set sail from Puerto Rico determined to find them, and landed on the coastline of St. Augustine, Florida, in what is now known as Ponce De Leon's Fountain of Youth Archaeological Park.
The park's colorful history dates back more than five centuries. It's the original site of Spanish Colonial St. Augustine, the first successful European settlement in the U.S., which was founded by Pedro Menendez de Avilés, a whopping 55 years before the Pilgrims landed on Plymouth Rock. The list of historical firsts in the park is impressive and includes the 1587 Mission of Nombre de Dios Church, the first Christian church built in the continental U.S. Additionally, the first documented Thanksgiving feast between Europeans and Native Americans occurred here. This site is also Florida's oldest attraction with signed guest books that go back to 1867. Today, visitors can enjoy the park's numerous exhibits and educational presentations on everything from archaeological research and nautical traditions to live cannon and weapons demonstrations. And, yes, you can still drink from the waters. Perhaps, you'll have better luck than I when it comes to results! One thing is for certain: the springs that brought Ponce de Leon to Florida's shores were valuable hydration sources for the Timucuan Indians for several thousand years and later served as impetus for Menendez's settlement. They have brought the city much fame and plenty of bragging rights.
St. Augustine is a treasure trove of historical attractions with more than sixty points of interest. Two National Monuments reflect the prevalent Spanish and Minorcan heritage: The Castillo de San Marcos (1695), the nation's oldest masonry fortress, and Fort Matanzas (1742), which guarded the city's southern river approach, as European nations battled for power and control of the area. Currently, the latter, reachable only by ferry, is closed as both the boat and dock was damaged during Hurricane Irma. However, the visitor center and surrounding grounds remain open.
As you approach the Castillo de San Marcos, you'll see a moat surrounding the place. The Spanish kept it dry and during sieges, used it as a pen for domestic animals. Note the drawbridge and the portcullis, the heavy sliding door, which is an indication of the building's strength. Built of coquina stone, an almost indestructible material, the fortress stood as a mighty sentinel and served as a military warehouse, as well as a refuge for the townspeople. Inside, several exhibits introduce visitors to the Castillo's history, design and construction, with rooms dedicated to guards' quarters and ammunition storage. There's also a chapel, where a priest conducted mass for the soldiers. The British Room is indicative of the period (1763-1784) when British troops moved to St. Augustine after Spain ceded Florida to Great Britain in exchange for the city of La Habana, Cuba. Outside, make sure to climb the stairs to the tops of the bastions and look out upon the waters of Matanzas Bay. From this commanding position, a garrison of Spanish troops safeguarded St. Augustine during the turbulent colonial era. Later English and then American troops also saw service here. All stood watch faithfully over the land Ponce de León named "La Florida."