Knitting Needles II
Sharing Stories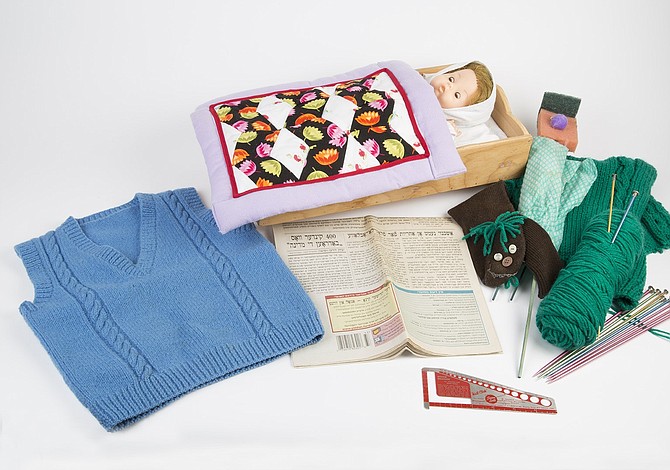 Knitting Needles II

The sweater vests go way back, before central heating probably. My grandmother made them for all the males in her family, and so did my mother. The design was a basic V-neck: flat smooth knit on one side, purl on the other, with one or two, braided "cables" (3knit crossed over with 3purl), and up the center by way of embellishment. Imagine my surprise when I found a pleasant, deep sky blue and brand new sweater in about size 3, in a secondhand store, when I was pregnant with my second son, way across the country from New York, in Seattle.
After my son outgrew it, I started on a bigger one, in his favorite color, green, following the blue one as a guide. Alas, he grew faster than I could finish it. (It was way too wide at first, and I had to redo a lot.) Still, the thought was there: protection. From what? From cold, from starvation, from lack of color and fire and passion in life.
Before my father died, he left instructions. He told me privately, in person, that he wished to be buried in the last sweater vest my mother had knitted for him. "I have this idea," he said, while miming shivering, "that I might be cold." (This after 14 years with another woman following my mother's death.)
I promised. I was not there when the funeral director called at the apartment for clothes for the casket. My father's partner had carefully laid out a matching outfit of trousers, shirt, and jacket, and objected that the sweater vest spoiled the "look" and did not "go" in terms of color. My brothers, themselves wearers of sweater vests for many of their formative years, intervened. At least, they gave the sweater to the funeral director along with the other burial clothes. A shroud would indeed have been simpler. Imagine an argument over the clothes to be buried in. Who, exactly, was going to see?
For me though, the idea that my father wanted to be buried with something showing my mother's love on his body was very meaningful, and wiped away some of the sting of his replacement—another woman in the house.
[Excerpt from Joan's upcoming book.]
Joan Rudd transplanted herself to the Pacific NW from New York to go to college some fifty years ago. She is a visual artist and a first generation American. She started writing her stories in 2003, and continues with the support of the group at the Greenwood Senior Center.
SHARING STORIES is a weekly column for and about the 50 plus crowd living in the Puget Sound region. Send your stories and photos to ariele@comcast.net. Tell local or personal stories; discuss concerns around aging and other issues; share solutions, good luck, and reasons to celebrate; poems are fine too. Pieces may be edited or excerpted. We reserve the right to select among pieces. Photos are always a plus and a one-sentence bio is requested (where you live, maybe age or career, retired status, etc.).
SHARING STORIES is featured on www.northwestprimetime.com, the website for Northwest Prime Time, a monthly publication for baby boomers, seniors, retirees, and those contemplating retirement. The newspaper can be found in the greater Seattle area and other Puget Sound locations. For more information, call 206-824-8600 or visit www.northwestprimetime.com. To find other SHARING STORIES articles on this website type "sharing stories" in the search function above.
Editor's Picks