Cranberries for winter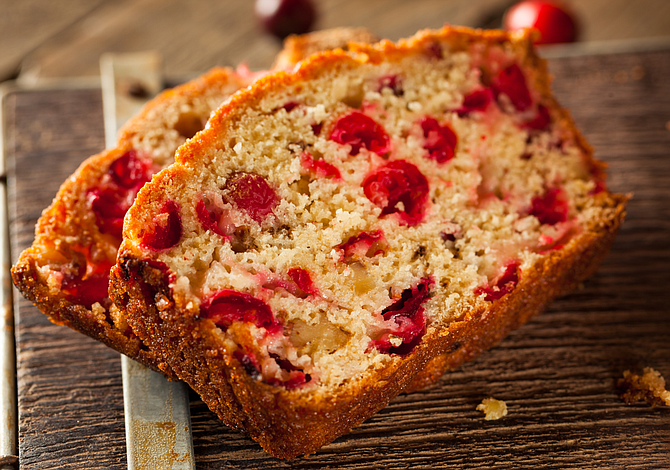 Here in the Pacific Northwest, we have great access to fresh, seasonal foods. But during the long, dreary winter months, fresh, local fruit might seem like an impossible dream.
Think again.
Washington state is one of the places where cranberries grow well, and you can buy fresh cranberries all winter long. Cranberries are filled with protective nutrients and antioxidants. They can help against urinary tract infections and may help protect against heart disease, cancer and other diseases.
That's great, but I like them because they're so pretty! Pretty, and sour. Used in desserts, or combined with the sweetness of oranges, they can add brilliant color and flavor to winter meals.
When the cranberry growers figured out how to add sugar to cranberries and dry them, a whole new food appeared: Craisins. You can toss these dried fruits into salads, turkey stuffing or couscous. They're also a wonderful addition to apple pie.
Rich's Wild Rice Stuffing
4 tablespoons butter or margarine
2 cups mushrooms, sliced
1 large onion, chopped
1 cup dried apricots, chopped
1 cup dried cranberries, chopped
4 tablespoons fresh thyme, or 1 teaspoon dried
4 tablespoons fresh tarragon, or 1 teaspoon dried
1 cup diced water chestnuts, fresh or canned
1 cup shelled pistachio nuts
4 cups cooked wild rice (mix half long-grain white rice if desired)
Cook 2 cups wild rice in 3 cups of fresh turkey stock or low sodium chicken broth.
Sauté mushrooms, onion, apricots and cranberries in butter. Add water chestnuts, pistachios and rice. Cook, stirring for about 5 minutes.
Add fresh herbs, and put in a greased baking dish and bake for about 30 minutes in a 350 degree oven. Serve with turkey. Double or triple the recipe and freeze. It keeps for months. Serves 9.
Nutritional Information
Calories: 390
Carbohydrates: 63g
Protein: 9g
Sodium: 81mg
Cranberry Orange Nut Bread
2 cups all-purpose flour
1 cup sugar
1 teaspoon baking powder
1/4 teaspoon baking soda
2/3 cup buttermilk (or 2/3 cup milk, 1 Tbsp vinegar)
6 tablespoons unsalted butter, melted and cooled
1/3 cup juice from orange
1 large egg, lightly beaten
2 tablespoons grated orange zest
1 1/2 cups cranberries, coarsely chopped
1/2 cup pecans or walnuts
Heat oven to 375 degrees. Spray 9- by 5-inch loaf pan with vegetable spray.
Mix dry ingredients, flour, sugar, baking powder and soda together. Mix buttermilk, melted butter, orange juice, egg, and zest in a separate bowl. Fold liquids into dry until moist. Add cranberries and nuts. Pour into pan and bake about 1 hour, until center is dry when a tested with a toothpick. Let cool completely before serving. Serves 12.
Nutritional Information
Calories: 243
Carbohydrates: 37g
Protein: 4g
Sodium: 76mg
Fresh Cranberry Sauce
1 pound fresh cranberries
2 oranges, grate peel from both
2 apples
1 ½ cup sugar
2 tablespoons fresh thyme
Wash and quarter fruit. Grate peel from oranges. Cut off white pith of oranges with a knife. Put fruit in food processor and chop coarsely. Mix in sugar and thyme and store overnight or longer to develop flavor. Serve with turkey, chicken, or pork. Serving size is one-quarter cup.
Nutritional Information
Calories: 67
Carbohydrates: 67g
Protein: 0g
Sodium: 1mg
The information in this column is meant for people who want to keep their kidneys healthy and blood pressure down by following a low-sodium diet. In most cases, except for dialysis patients, a diet high in potassium is thought to help lower high blood pressure. These recipes are not intended for people on dialysis without the supervision of a registered dietitian.
[Katy G. Wilkens is a registered dietitian and department head at Northwest Kidney Centers. A recipient of the Susan Knapp Excellence in Education Award from the National Kidney Foundation Council on Renal Nutrition, she has a Master of Science degree in nutritional sciences from the University of Washington. See more of her recipes at www.nwkidney.org.]