A POETIC EPIGRAM
Sharing Stories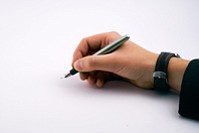 A POETIC EPIGRAM
When a potential poet
decides to air
his delicate wit,
he consults the ultimate:
the Mighty Scansion List
He confronts among others
the trochee, anapest or iambic patterns
with "feet" that stumble
eventually grumbling,
"It really doesn't matter!"
Consternation
begrudging admiration
confront the struggling poet
amazed with classic composers
who put word and form together
with irritating devotion.
Some poets who stumble
sense a different beat
place words upon paper
indiscriminate
are lost in thought
and merely ruminate.
Audience, oh audience
I know you've struggled with this,
but no more so than poets
fighting with the mighty
Scansion List.
Charles N. Inge is a longtime Washington State poet…who seems to know it!
SHARING STORIES is a weekly column for and about the 50 plus crowd living in the Puget Sound region. Send your stories and photos to ariele@comcast.net. Tell local or personal stories; discuss concerns around aging and other issues; share solutions, good luck, and reasons to celebrate; poems are fine too. Pieces may be edited or excerpted. We reserve the right to select among pieces. Photos are always a plus and a one-sentence bio is requested (where you live, maybe age or career, retired status, etc.).
SHARING STORIES is featured on www.northwestprimetime.com, the website for Northwest Prime Time, a monthly publication for baby boomers, seniors, retirees, and those contemplating retirement. The newspaper can be found in the greater Seattle area and other Puget Sound locations. For more information, call 206-824-8600 or visit www.northwestprimetime.com. To find other SHARING STORIES articles on this website type "sharing stories" in the search function above.
Editor's Picks