Rescuing Ramen – How to make ramen noodles a low-salt meal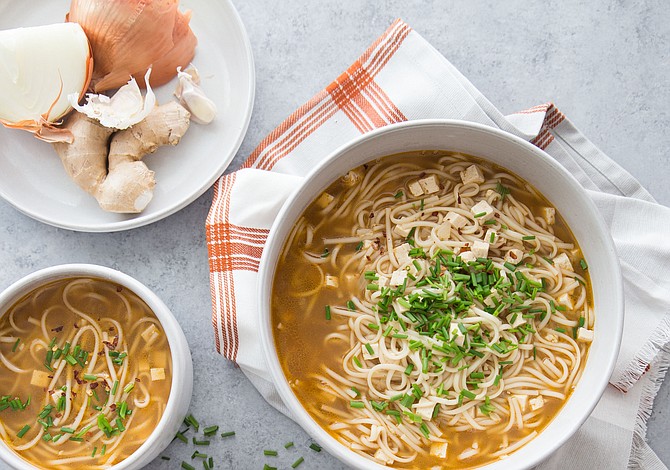 Just about everyone eats ramen noodles. Those precooked, dried noodles are a quick favorite.
Quick they may be, but low in sodium they aren't! We've surveyed several brands and realized that not all ramen noodles are the same. Some had a quarter of the salt as others. Even the lower-salt packages aren't ideal. Eating one will still have you well on your way to your daily 2,000 mg salt limit.
The best way to use ramen noodles is to buy the type in a block and avoid using most of the seasoning, since most of the salt is in that seasoning pack. Use just 1/2 teaspoon of the seasoning packet to keep the salt down. You can pump up the flavor with other low-salt additions.

Ramen Noodle Soup for Two
2 cups water
1 cup frozen mixed vegetables
1 egg
1 pack ramen noodles
3 ounces diced tofu
1 scallion, thinly sliced
1/2 teaspoon ramen seasoning packet
1/2 teaspoon sesame oil
Bring water to a boil. Add vegetables, ramen noodles and seasoning to create the broth. If using an egg, blend with a fork and pour it slowly into boiling broth, swirling the broth as you pour. Continue stirring until the egg is fully incorporated. Remove from heat when cooked to desired texture. Add tofu, scallions and sesame oil.
Tips:
For some added heat, use hot chili oil or hot sesame oil in lieu of plain sesame oil.
Nutritional information
Calories: 312
Carbohydrates: 43 g
Protein: 12 g
Fat: 11 g
Sodium: 470 mg
Ramen Snack Mix
1 pack of ramen noodles, crushed
1/2 cup dried cranberries
1/2 cup dried apricots, finely chopped
1/4 cup sliced or slivered almonds
Toast the crushed ramen noodles in a frying pan over medium heat until lightly browned. Add the cranberries, apricots and almonds
Tips:
Use any dried fruit.
Add 1/4 cup chocolate chips for a touch of sweetness.
Nutritional information
Calories: 310
Carbohydrates: 54 g
Protein: 6 g
Fat: 8 g
Sodium: 85 mg
The information in this column is meant for people who want to keep their kidneys healthy and blood pressure down by following a low-sodium diet. In most cases, except for dialysis patients, a diet high in potassium is thought to help lower high blood pressure. These recipes are not intended for people on dialysis without the supervision of a registered dietitian.
[Katy G. Wilkens is a registered dietitian and department head at Northwest Kidney Centers. A recipient of the Susan Knapp Excellence in Education Award from the National Kidney Foundation Council on Renal Nutrition, she has a Master of Science degree in nutritional sciences from the University of Washington. See more of her recipes at www.nwkidney.org.]