Captivating Cape Town
Travels with Deb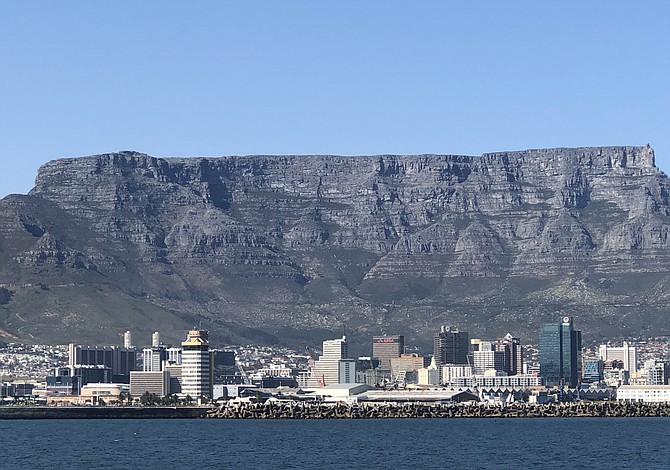 When you're ready to trade serenity for some hustle and bustle, head to the Victoria & Alfred Waterfront. This lively spot, which offers breathtaking views of Table Mountain, buzzes with activity at all hours of the day. Situated in the oldest working harbor in the southern hemisphere – built in the late 19th century by Queen Victoria's second son, Alfred – the place has acted as the stopover point for European ships for centuries. Today, the waterfront is a hive of shops (check out the Watershed, a warehouse with space for more than 150 vendors specializing in high quality African arts and crafts), restaurants (the V&A Food Market sells gourmet street food from all over the world), live music venues and notable attractions like the Two Oceans Aquarium, Nobel Square (named for the four bronze statues of South Africa's Nobel Peace Prize laureates: Nelson Mandela, Albert Luthuli, Desmond Tutu and F.W. de Klerk), Zeitz Museum of Contemporary Art, Clock Tower Square, the Shimansky Cape Town Diamond Museum and Robinson Dry Dock. It's also the jumping off point for whale-watching tours and excursions to Robben Island.
Robben Island, which is regarded as the symbol of "the triumph of the human spirit over adversity, suffering and injustice," is an essential destination for visitors interested in immersing themselves in South Africa's complex history. The small island was once home to a leper colony, mental institution, whaling station and military base, but perhaps it is best known for being the notorious penal colony used by the South African government to incarcerate political prisoners. Nobel Laureate and former President of South Africa, Nelson Mandela, was imprisoned on Robben Island for eighteen of the twenty-seven years he served behind bars, before the fall of apartheid. Two other former inmates, Kgalema Motlanthe and Jacob Zuma, also went on to become President of South Africa. At its peak, Robben Island held 1,000 prisoners. The last group of incarcerated men was released in 1991.
Today, Robben Island is a museum, as well as a UNESCO World Heritage Site, that serves to remind people of the price of freedom. To get there, you need to take a ferry from the Nelson Mandela Gateway at the waterfront. Once you disembark at Murray's Bay Harbor, you'll board a bus, which will transport you around the historical sites on the island. You'll stop at the limestone quarry, where political prisoners were forced to endure back-breaking labor each day. The men, however, used this time to their advantage, engaging in critical debate and lessons of lifelong learning. Nearby is a pile of stones, which were put here spontaneously by former political prisoners at a reunion in 1995. The different colors represent the new South Africa.
You'll also stop at Robert Sobukwe's house. A forgotten hero of South Africa, Sobukwe was a black nationalist leader who founded the Pan Africanist Congress in opposition to the South African apartheid system. Sobukwe spent four years in isolation on Robben Island, eventually moving off the island and placed under house arrest.