Prepare to be dazzled by Detroit
Travels with Deb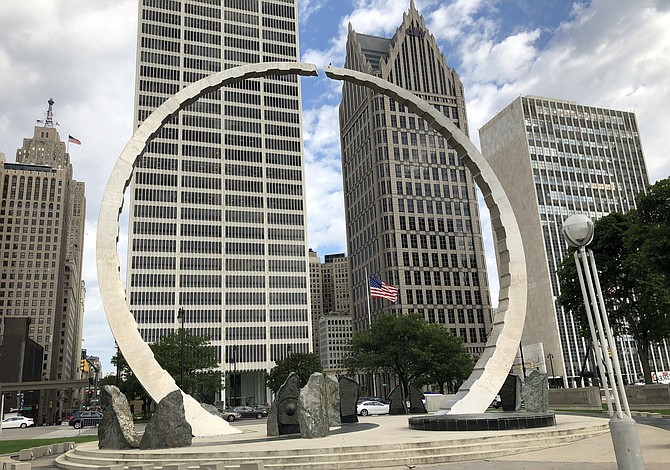 For art lovers, a visit to the Detroit Institute of Arts is a must. The museum has one of the largest and most significant art collections in the U.S., with over 65,000 works that date from the earliest civilizations to the present. Included are paintings, sculptures, photos, prints and murals representing African, Egyptian, Asian, American, European and Indigenous American art. Some of the museums highlights include Rembrandt's "The Visitation," "The Wedding Dance" by Peter Bruegel the Elder, Gentileschi's "Judith and Her Maidservant with the Head of Holofernes" and "Self-Portrait" by Van Gogh (the first painting by the artist to enter a public museum in the U.S.). There are also numerous outstanding pieces by renowned Impressionists and even a room dedicated to everything Medici.
A favorite of many visitors to the museum is "The Detroit Industry Murals," a series of twenty-seven large-scale frescoes by Mexican artist Diego Rivera. The panels were painted on the walls of the inner court, and tell a story of industrial culture in Detroit that is also a cautionary tale of technology and science. Completed between 1932 and 1933, the murals were considered by Rivera to be his most successful work. In 2014, they were given National Historic Landmark Status.
The institution also holds special exhibitions throughout the year. Currently, more than sixty original costumes featured in the first seven films of the "Star Wars" saga are on display in "Star Wars and the Power of Costume." And in celebration of the great American pastime of baseball, there's "Play Ball! Baseball at the DIA," an exhibit of vintage baseball cards (check out the rare Honus Wagner card), along with memorabilia and collectibles commemorating the 50th anniversary of the Detroit Tigers' 1968 World Series victory.
When it comes to shopping, Detroit's got you covered with everything from high end labels to secondhand goods and antiques. For hyper local goods, stop in at Shinola and drool over the ultimate in contemporary watches, briefcases, assorted leather goods and even bicycles. And yes, if you think you recall Shinola being a brand of shoe polish that was popular during the first half of the 20th century, you're right. Now defunct, the brand name was acquired by Shinola Detroit in 2011, a company that is dedicated to bringing jobs back to the city.
Third Man Records is another Detroit-centric store. Founded by front man Jack White of the band, the White Stripes, the place is a combo record shop, novelties lounge, in-store performance stage, record booth and vinyl record pressing plant, which can be witnessed in action through viewing windows.
Detroit Denim should also be on your list. All of its products are sourced from American companies and handmade in Detroit. Founder Eric Yelsma wanted to expose the myth that it's impossible to create a sustainable jeans business domestically, while at the same time, he sought to diversify the manufacturing base of Detroit.

When you're ready for sustenance, be prepared to encounter a foodie's paradise. Detroit, with its roots as a European city and leader of the industrial movement, has a culinary scene that is a fusion of many cultures and locations around the globe. Take your taste buds on a tour at such eateries as Townhouse Detroit, a neighborhood classic specializing in modern American comfort dishes; award-winning European and Mediterranean influenced Parc, located in lively Campus Marcius Park; newly-opened Lumen, a Belgian style brasserie in Beacon Park, or the Detroit Club's Grille Room. The latter used to be an exclusive, member-only private club, but is now open to the public after major renovations, and offers a chophouse-style menu in a historic locale.