Prepare to be dazzled by Detroit
Travels with Deb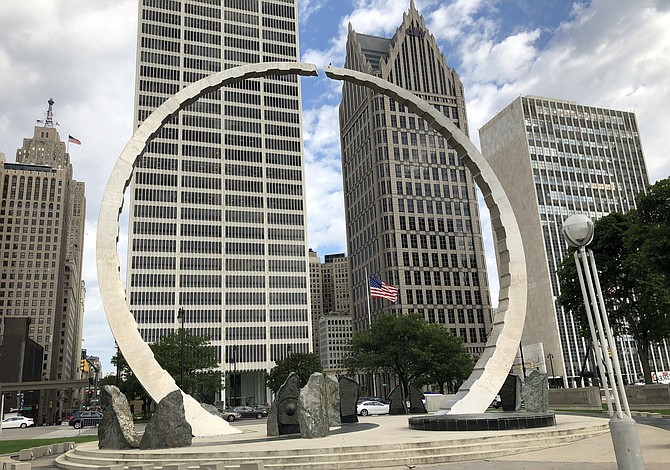 When I told friends I was going to Detroit, I received a lot of puzzled looks and raised eyebrows, followed by the question, "Why?" They were skeptical when I explained that my reason for visiting the town was curiosity-based, as rumor had it that "The D" was a reinvigorated destination and worthy of a look-see. Most people that I spoke to all had the same negative impressions of the city, as a gritty place with boarded up buildings, major unemployment and a high crime rate. Their views were likely shaped several years ago, based on photos and stories detailing some of the toughest and most challenging times in Detroit's history. Filing for bankruptcy back in 2013 was a devastating blow to the image of this once storied town, the heart of the country's auto industry and home to the Detroit Tigers, Eminem, the White Stripes, Motown and (maybe) Jimmy Hoffa's body.
But, things have been changing in Motor City and it's now making headlines as America's great comeback kid. With a sizzling culinary scene, hip hotels, hot entertainment districts, eclectic shops, reactivated parks and innovative start-ups, Detroit has a fresh, new look. And the place has an energy that's contagious, as young entrepreneurs, artists and musicians mix with generations-old mainstays, creating an exciting vibe. Residents are once again proud of their town and eager to show it off.
To get an overview of the area, take one of City Tour Detroit's guided excursions with stops at some of the town's famous landmarks and crown jewels. You'll discover that this urban hub is a collection of neighborhoods including Irish influenced Corktown, with its historic buildings and friendly pubs; authentic, Old-World atmospheric Greektown; quirky, artsy Midtown; Eastern Market, site of the country's oldest farmers market splashed with colorful mural-bedecked buildings; Rivertown, anchored by the Detroit International RiverWalk and home to some of the best green spaces and outdoor activities in the city; Mexicantown, a vibrant community full of ethnic eateries and working tortilla factories; and Downtown, Detroit's central business district and sports mecca.
This is a city that celebrates sports with major league baseball, basketball, football and hockey teams that have devout followings. It's the only place in the country where four professional teams play in the downtown core. The newest stadium to open is Little Caesars Arena, home to the Detroit Pistons and the Red Wings.
Make sure to stroll along the RiverWalk for picturesque views of the Detroit River and neighboring Windsor, Ontario. The promenade is a popular place for both visitors and locals, many who get their daily exercise by walking or cycling the pathway. Stop at "Gateway to Freedom," a stirring monument paying tribute to Detroit's role in the Underground Railroad. The installation, designed by Ed Dwight, is located at the edge of Hart Plaza, directly across from Canada, where the slaves depicted in the piece are looking hopefully for freedom. Surrounding plaques outline the city's participation in the Underground Railroad, as well as highlight several places that were instrumental in the passage to Canada. A counterpart monument by the same artist is in Windsor.