The Northwest's Own Sally Jewell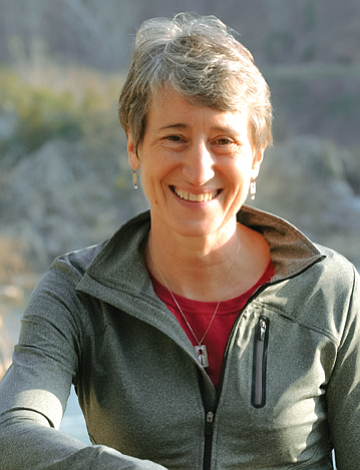 The White House called again in 2012 and the second time around Jewell accepted the position as Secretary of the Interior. Although she'd never been in politics before, she quickly worked to find support on both sides of the aisle.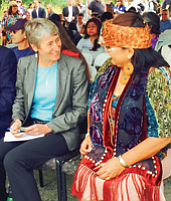 During her tenure as Secretary of the Interior, Jewell served as steward of approximately 20% of the nation's land. She focused on conservation efforts, investing in more sustainable water use, ensuring economic progress and building trust with indigenous communities.
"What I am most proud of and feel I really moved the meter on is resetting the federal government relationship with indigenous people of this country," Jewell told Seattle Times reporter Lynda Mapes.
The same article discussed her efforts to prioritize policies to interest more young people in the great outdoors. "We have a generation of children growing up without any connection to nature," said Jewell.
While at the Department of the Interior, Jewell worked to get digitally-obsessed kids comfortable just playing in the outdoors and learning from "the best teacher of all, Mother Nature, in the best classroom, the one with no walls." She also encouraged kids to give back through volunteer service on public lands and urged them to start thinking of the outdoors in their career plans.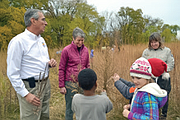 Jewell is proud of her Every Kid In A Park Initiative, which makes all fourth-grade students in the nation and their families eligible for a free one-year pass to U.S. national parks and public lands. She also expedited permits to allow youth organizations to explore public wild lands and historic sites. To date, tens of millions of children have benefited from these programs.
Sally Jewell has maintained her own passion for outdoor adventure. She is an enthusiastic kayaker, hiker and mountain climber. She has scaled Mount Rainier seven times and climbed Mount Vinson, the highest peak in Antarctica. As challenging and satisfying as her position in Washington D.C. was, Jewell's first goal upon leaving was to immerse herself in nature. "When I'm done with this job, I'm going to find a lot of parks and public lands on a slow drive back to Seattle," she commented before she left her post at the Department of the Interior.
Now that Jewell and her husband are happily ensconced back in the Pacific Northwest, retirement is far from her mind.
"My next chapter is paying it forward in this unusual career I've had. I just started a part-time fellowship at the University of Washington in the College of the Environment," she says. "Last year, I did a fellowship at Harvard." At the UW, she will focus on working with students and the institution in what she calls horizontal engagement. "When we deal with big environmental challenges, the biggest being climate change, how do we move from where the science is clear but the public is not engaged?" Going forward, the work cannot be just about science, she adds. "There is no discipline that doesn't play a role. It is about community, business, public health, psychology…what role does an artist play? Art can raise emotion and inspire without words." Jewell wants to help students chart a better path to be part of the solution.
When asked about an eventual retirement, Jewell replies, "My role models never retired. These are chapters in our lives. It can be very fulfilling to engage in something you're passionate about through volunteering or an encore career. It's easy to be busy, but not necessarily to feel valued. Many people have things to offer by way of their experience and passion, or finding a different dimension to their lives they didn't have time for before."
While Jewell will continue working to make a difference, she will also relish her ability to spend more time with friends and family. "I have a son and daughter in their early 30s, and three grandchildren." She takes the grandkids on outdoor adventures – hiking, skiing and exploring nature. "They love to go out on the boat with us," says Jewell. The family also spends time at the little beach cabin Jewell and her husband built themselves on Harstine Island in the South Sound. "I have my racing machine there, my original little wooden boat."