How is your relationship with your home?
Age-Friendly Discussin Groups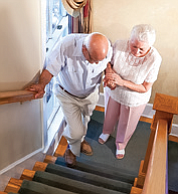 The ongoing Age-Friendly Discussion Groups project brings you topics of interest to older adults. This month's theme of "home" applies to homeowners, renters and residents of senior housing communities. We look forward to hearing from your group!
Home is where the heart is. It is more than a structure built of wood or brick or steel. It is where we surround ourselves with belongings that give us comfort and inspiration. It is where we make memories with family and friends. For those fortunate enough, a residence can adapt through different life stages to be the home that we need at any given time.
But our lives aren't as static or predictable as they once were. For starters, we are living much longer than previous generations, which means our homes can become a safety hazard as we age. In addition, our idea of family has expanded. Married children are moving back home with parents. Parents are moving in with children. Three, even four generations living under one roof is not as uncommon as it once was. In addition to these societal changes, economic pressures play a significant role in our housing futures. For instance, property taxes have increased exponentially which has left many older residents wondering if they can afford to stay in their communities.
On the government front, elected officials recognize older homeowners are struggling. This spurred several bills during the last legislative session aimed at easing the cost burden for distressed homeowners. One bill gives local jurisdictions the ability to exempt older adults and disabled persons from property tax levies if tax exemption language is included in the ballot measure. This measure will apply to King County's Veterans, Seniors, and Human Services levy, which adds 10 cents per $1,000 of assessed home value to property taxes.
Property tax exemptions and tax deferrals are available to low-income seniors, retired disabled citizens and veterans in Washington State. According to the King County Assessor's Office, thousands of qualified seniors and disabled persons haven't registered for the exemption. Only 1 in 100 has taken advantage of deferrals. Find out more through your local assessor. Lists of offices are available from the Washington Department of Revenue at www.dor.wa.gov/find-taxes-rates/property-tax.
Another big concern as communities work to create a more age-friendly environment is the safety of older adults. According to the National Floor Safety Institute, every year in the U.S. one of every three persons over the age of 65 will experience a fall. Most homes that we live in today are not equipped to handle the needs of an aging population. However, most people don't discuss or think about the age- appropriateness of their home until a crisis occurs.
Rebuilding Together (RT) is one local resource committed to helping low-income older adults, veterans and people with disabilities age in their own homes. Interested parties submit an application for repairs, which are reviewed during a site visit along with an additional checklist of 25 repair priorities for safety. Depending on needed repairs, RT will either connect the homeowner with their Safe at Home volunteers or schedule a large Team Build or Spring Rebuilding event for more complicated modifications.