Age-Friendly Housing: How is Your Relationship With Your Home?
Age-Friendly Discussion Groups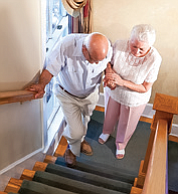 "Our most often identified repairs to assist with aging in place are installing hand rails and bathroom grab bars; removing carpet and replacing with smooth surface flooring and ADA ramp construction," says Mike Lahoda, Director of Programs at Rebuilding Together Seattle.
Repairs and modifications help make a home more livable by incorporating the principles of visitability and universal design. A visitable home requires three basic features including one zero-step entrance, doors with 34 inches of clear passage space, and one bathroom on the main floor accessible by wheel chair. Universal design encompasses much more from replacing doors, faucets and handles to moving or removing throw rugs, electric cords and other barriers like furniture. AARP's HomeFit guide at www.aarp.org/homefit provides a checklist of age-friendly changes for both tenants and homeowners.
Housing improvements are also part of the region's commitment to be a community that accommodates all ages. Home repair programs include grants and low-interest loans that can be used to pay for interior and exterior repairs. To qualify, homeowners must be residents of Seattle with an income at or below 50% of the area's median income. Seattle, King County and other communities have repair programs for homeowners and tenants. Tenants often have a more difficult time convincing landlords to make reasonable accommodations to remain in their rental units. But the King County repair program for special-needs renters helps by offering grants to help modify existing rental units. More local groups are available to help with minor repairs, for renters and home-owners alike. Visit our resource section for details.
For some, home modifications won't be enough to facilitate aging in place. For others, large single-family homes are no longer desirable for a number of reasons, including care and maintenance. Those who are interested in age-specific residences such as retirement communities should start researching long before the move is planned. Consider what type of community you want and what your future needs may be. There are several resources available to help make a list of "must have" and "nice to have" amenities. A helpful place to start is www.retirementconnection.com, which offers a printed and online resource guide about local area communities. They can be reached by phone at (800) 462-1316.
Bottom line? An age-friendly community has affordable options for households with varying income levels and has homes with design features to accommodate people with limited mobility. If aging in place isn't right for you, check out some of the other trends for housing. The article "Alternative Housing for Seniors" (northwestprimetime.com/news/2018/mar/31/alternative-housing-seniors/) in the April edition of Northwest Prime Time details several options that are available in our surrounding community. Or check out www.northwestprimetime.com/housingguide/ for those contemplating a move to retirement housing communities.
If you would like to delve deeper into the housing issue, the King County Library System has compiled a booklist of resources on the topic of housing and community at kcls.org/housing.
Discussion Questions
How have family dynamics affected your housing arrangements?
What support do you need to stay in your current home if that is what you desire? How can you get that support?
Why did you choose your current home?
How do you establish your sense of home after a move?
Why do you think people resist moving when moving seems to be clearly in their best interests?
We often think of the American Dream with regard to housing. Does this resonate with you? In what way? How is the American Dream changing?
What innovations have you heard about/experienced with regard to housing? (Ex: Co-housing, the Village concept, homesharing match-up websites, etc.).