Preparing for Disaster
September 30, 2017 at 8:36 p.m.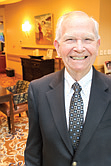 ---
Perhaps you saw the startling photos of seniors sitting in waist-high water while awaiting rescue, or heard the tragic news of nursing home residents dying when air conditioning failed following the hurricane.
Stuart Hood works to prevent such tragedies at his Bellevue retirement community. He chairs the Safety Committee and Disaster Response Group for Pacific Regent. Stuart holds monthly meetings with his fellow residents to ensure they are prepared for anything. Stuart's group has been recognized as one of the outstanding senior programs in King County, and now Hood is preparing to take his show on the road as the City of Bellevue's liaison to retirement and assisted living communities in the city, 25 in all.
"My responsibility for this new appointment is to help incorporate all of the disaster response training that we use at Pacific Regent and tailor that to each individual retirement and assisted living facility in Bellevue," Hood explained.
All assisted living communities, nursing care facilities and adult family homes are required to have emergency preparedness plans, which are regulated by Washington State's Aging and Long-Term Support Administration (ALTSA).

"Licensed settings must have disaster plans in place," stated Colleen Keltz, communications manager for ALTSA. "DSHS inspects these plans during the initial inspection and also at each annual inspection. Many facilities have resident handbooks and disaster plans/emergency plans," she added. She recommends that residents and their loved ones inquire about the emergency plans at their community.
Independent living retirement communities are not part of this same oversight program, but many may have their own emergency plans. All seniors, whether they live in a community or not, are well-advised to have an emergency plan of their own.
FEMA offers a wealth of information for seniors at www.ready.gov/seniors. They advise:
Get Informed
• Know what disasters could affect your area, which disasters call for an evacuation and when it is advised to shelter in place.
• Keep a NOAA Weather Radio tuned to your local emergency station during emergencies and monitor TV and radio. For those with mobile devices, download the FEMA app (www.fema.gov/mobile-app) to receive weather alerts from the National Weather Service. Follow mobile alert and mobile warnings about severe weather in your area.
• Each county in Washington State has their own emergency and disaster plan, as do many cities. Find out who your local Emergency Management Team is and what local emergency plans exist.

• Find out if your retirement community has a plan and familiarize yourself with it, or work to start one.
Make a Plan
Next, determine any special assistance you may need, and include it in your emergency plan.
• Create a support network of family, friends and others who can assist you during an emergency, and share your disaster plans with them. Practice your plan with them.
– Make sure they have an extra key to your home, know where you keep your emergency supplies and how to use lifesaving equipment or administer medicine.
• If you undergo routine treatments administered by a clinic or hospital, find out their emergency plans and work with them to identify back-up service providers.
• If you have a communication-related disability, note the best way to communicate with you in your plan for others to read.
• Don't forget your pets or service animals. Not all shelters accept pets, so plan for alternatives.
– Consider loved ones or friends outside of your immediate area
– Prepare an emergency kit for your pet (www.ready.gov/animals).
• The Red Cross also offers a wealth of information, including free courses on disaster and emergency preparedness. The Red Cross will visit your community to present these courses (see "More Information" box below).
MORE INFORMATION
Emergency preparedness resources can be found at:
• www.ready.gov/seniors
• www.dshs.wa.gov/altsa/residential-care-services/resourceslong-term-care-facilities-emergencyplanning.
• Red Cross general emergency information: www.redcross.org/get-help/how-to-prepare-foremergencies
• Red Cross information on different types of emergency preparedness: www.redcross.org/get-help/how-to-prepare-foremergencies/types-of-emergencies
• Anyone interested in scheduling a preparedness presentation for their community, workplace, school, church or other organization, should start by reaching out to their local chapter: www.redcross.org/local/washington/chapters
– King County 206-323-2345
– Snohomish County 425-252-4103
– Pierce County / South Puget Sound 253-966-3889
---