Find a Trail to History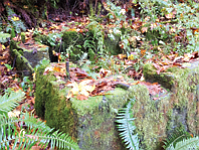 The history was there to be found because residents and city planners gifted with foresight and persistence had preserved it. The Issaquah Alps Club formed in 1979, named by Harvey Manning after the string of mountains
older than the Cascades: Cougar, Squak and Tiger. For years, members sponsored "Return to Newcastle Days" and led tours of the mine sites. They persuaded the King County Council and King County executives Randy Revelle and Tim Hill to create Cougar Mountain Regional Wildland Park. Since plans were finalized in 1990, King County Parks has constructed trails, placed interpretive signs, and struggled to keep up with the park's popularity and demands for parking at the trailheads.
They made it easy for me. How can you trace a history trail in your community? Curiosity will take you far.
Try these approaches:
Walk. Explore any path on public land that seems to lead somewhere. Chances are it did lead somewhere sometime. Watch for unusual features of the landscape, such as graded paths, stumps with springboard marks from logging, mounds of earth that don't look natural, detritus such as iron spikes, even old telephone poles.
Look at old maps. Find these at the map collection at the University of Washington or Washington State University's digital collection of early Washington maps, including United States Geological Survey topos maps.
The first surveyors marked Indian trails, wagon roads, springs and curious landmarks. I spent parts of three
summers looking for an "Indian Corral" named and marked with an X on a map—and found it! Names, such as Coffee Pot Springs, are also clues. What was that coffee pot doing there?
Talk to older residents. Where did they work? How did they get there? Where were the community gatherings? Miners at Newcastle walked an old military road, now a trail, to escort their dates from another town to Saturday night dances.
Read local histories. Go to the local library and history museum. Read what people wrote 50 and 100 years ago. Look for the sites they mention. An urban or town walk can be as satisfying as a hidden ravine.
Ask your local parks department. What land, trails and sites are they working to preserve? The Coal Creek trail launched me on a book about more than 40 historic hikes in Washington, but there is great value in knowing just one trail well, adding resonance to our contemporary lives.
Judy Bentley is the author of "Hiking Washington's History" and "Walking Washington's History: Ten Cities." She is emeritus faculty from South Seattle College and is also the author of fifteen nonfiction books for young adults. See www.judybentley.com for more information about the author and about the local talks she gives.