Changing Aging Assumptions
How a Catholic nun has changed how we look at aging
...by Keri Pollock | Sep 1, 2017, 8:33 p.m.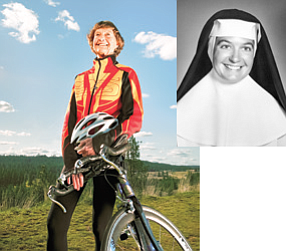 Trips to the store are done by walking or biking. She maintains a garden in season, and regularly pulls weeds, plants and rakes. She runs to and from her parish. In winter, she often uses cross-country skis and snowshoes to get around. She makes her meals nutritious and simple.
The years of training and competing have been filled with challenges. She's been hit by cars, sustained a broken hip, femur, ribs, a compound fracture of her right elbow, contusions and a chipped heel. Through it all, she persevered, and continued to train and compete as best she could.
Sister Madonna turned 87 years old on July 24, 2017. She continues to push the boundaries and challenge assumptions about older adults and aging. When she wanted to compete in a triathlon and there wasn't a category for her age group for women, she requested one and it was granted.
Because of Buder's pioneering work and accomplishments, there are now age group categories for women age 75–79 and 80+ in many triathlons, including Ironman competitions. When Sister isn't training and competing, she practices her Catholic faith as a Sister of Christian Community, serving as a daily communicant and lector, alternating between two Spokane parishes and serves faithfully in local prison ministry.
Sister Madonna is also pragmatic about age. She has learned to respect her age and "not push beyond reason. For the more mature athlete, I think endurance is the key, not necessarily speed," she says. "If you can endure, you can out-do the speedsters who wear themselves out in the beginning stages."
Sounds like a great metaphor for living life to its fullest.

Contributor Keri Pollock directs marketing and communications for Aging Wisdom, an Aging Life Care™ practice (geriatric care management) serving King and south Snohomish Counties; serves on the Elderwise board of directors, and co-chairs the UW Elder Friendly Futures Conference.
MORE INFORMATION
UW Elder Friendly Futures Conference: The Essential Work of Caregiving Across Communities, September 14-15, 2017, Lynnwood Convention Center. To register, visit www.elderfriendlyfutures.org and take advantage of the Elder Friendly 65+ conference rate. For information, call Sherri at 206-616-1462