Zoë Freeman
'Head Figlet' Behind the Figgy Pudding Caroling Competition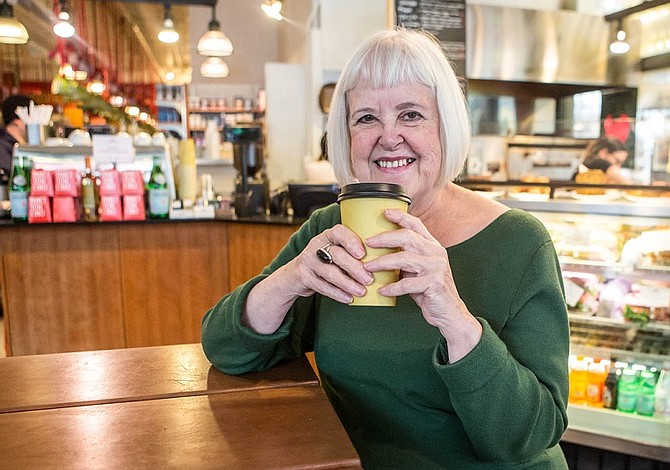 The Pike Market Food Bank is located only a few blocks north of the Senior Center. "I've always thought of [the Senior Center and Food Bank] as two arms that wrap themselves around the downtown community, but part of the same body," Freeman explains. Every year the Food Bank provides more than 500,000 pounds of food to low-income families, seniors and other individuals in the Pike Place Market and downtown neighborhood. Currently open for distribution twice a week, the Food Bank receives supplies from organizations such as Northwest Harvest and Food Lifeline, through food drives at local schools and companies, and from gleaning efforts at Pike Place Market. Zoë Freeman The Food Bank team is constantly evolving its "storefront" to be more welcoming, accessible and efficient, and to eliminate the stigma often associated with donated food.
Market patrons may catch Freeman dashing through Pike Place on any given morning. Figgy Pudding attendees may glimpse her running the Caroling Competition. But one thing is for certain: Through her work, Freeman has made a lasting impact on a population often overlooked.
"The Market community is very special. It's so wonderful and so connected. As big as it is and as crowded as it is, it's also intimate. People really care about one another," Freeman explains. "Just being part of the Market community is exciting and rewarding and it's very much my community… There were a couple of times I thought I should leave and go do something else. I looked around and interviewed a few times, and then I just couldn't. I found that my heart was here."
This is an updated article originally published by the Seattle Weekly
MORE INFORMATION
Pike Market Senior Center & Food Bank is made possible by the support of the Pike Place Market Foundation, the City of Seattle and the community. By helping our neighbors who work, learn, and live in and around the Market, the Foundation helps the Market you love remain a thriving, caring community. Learn more and donate at pikeplacemarket foundation.org. The 31st Annual Great Figgy Pudding Caroling Competition takes place Friday, December 1 in downtown Seattle at the Westlake Center from 6-8:30pm. Immerse yourself in the holiday spirit as dozens of caroling teams sing their hearts out on downtown Seattle street corners in and around Westlake Center. The top teams then compete in a sing-off on the Figgy Main Stage.
There are lots of ways to enjoy Figgy Pudding! You can come to enjoy the music, volunteer or get in on the action by forming a caroling team. If you missed this year's event, please consider giving a donation to help seniors in need... and start planning to join next year's fun! For more information, visit www.pikemarketseniorcenter.org/figgy-pudding/ or call 206-728-2773, ext 108.
Editor's Picks