Garden d'Lights
How it all began...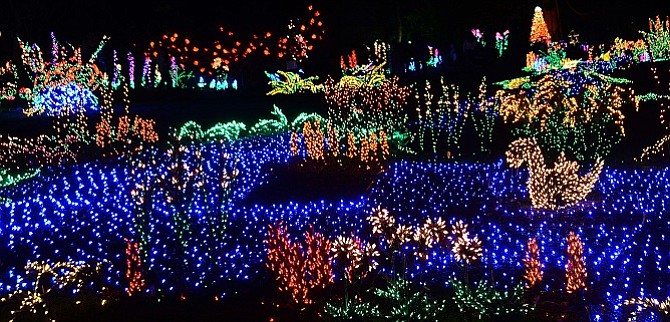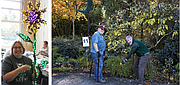 Bellevue Botanical Garden's annual winter extravaganza, Garden d'Lights, had a rather lowkey, charming beginning.
"Garden d'Light's began very simply," says Darcy McInnis, the Garden's Communication Manager. The first year started as light decorations on the grape arbor at the Shorts House Visitors Center and a few other places in the Garden. "It was created as a private festival to thank members and donors of the beloved garden."
In the Garden's February 1995 newsletter, Barbara Quinn thanked volunteers for the first official Garden d'Lights in December of 1994: "All those hours with 'twist-ems' counting one – twist three – skip two – twist three! The first-ever Winter Festival of Garden d'Lights must have acheived some record for brevity from conception to execution."
According to Barbara, visitors that first year numbered somewhere between 1000 to 1500 people. By 2009, over 150,000 visitors attended the festival. From the beginning, the light display was created as a way to entice visitors to the garden in winter, and the quest was so successful that by 2010, an entrance fee of $5 was created as a way to control the crowds. (Every year, the Garden still offers free nights.)
"No one set out to to create a huge public holiday lights display," explained Darcy. "It grew little by little every year, until it became what we know today."
That first year, there were 60,000 lights put together by sixtythree volunteers. Today, it takes thousands of volunteer hours and boasts well over a half-a-million sparkling lights formed into whimsical shapes of plants, flowers, birds, animals and cascading waterfalls—all set amid the natural beauty of the Bellevue Botanical Garden.
Another interesting fact, according to Darcy McInnis, is that "Back in the day, volunteers began working on the display in October. Today, volunteers work year-round on Garden d'Lights. And yes, the display is built and installed 100% by volunteers – several of whom have been working on Garden d'Lights for many, many years."
The Garden is always looking for more volunteers and offers training on how to create the light displays. Or simply plan a visit this holiday season to be transported to a fantistical world.
MORE INFORMATION
The 23rd Annual Garden d'Lights at the Bellevue Botanical Garden runs through December 31 from 4:30 to 9pm every evening, including holidays. Tickets are $5 per person (children 10 and under are free). Buy your ticket in advance by visiting www.gardendlights.org, or call 1-888-959-6841. Free event nights this year include December 4 through 7, where tickets are not required. Free parking is available at Wilburton Hill Park (located east of the Garden on the south side of Main Street). Premium parking is available in the Garden's lot for $5 (cash) as space allows. Disability parking is free in the Garden's lot. Bellevue Botanical Garden is located at 12001 Main Street in Bellevue.
More Holiday Light Tours
...by Roger Urbaniak
Viewing Christmas light displays helps to get everyone in the mood for the holidays. Some of the better displays may give us decorating ideas or encourage us to add a few strings of lights to the displays that we routinely put together each year. Following are a few of my favorite places to tour that invariably help me to get into the Christmas spirit.