My Childhood Zoo
Sharing Stories
Perrilee Pizzini | Mar 27, 2017, 6 a.m.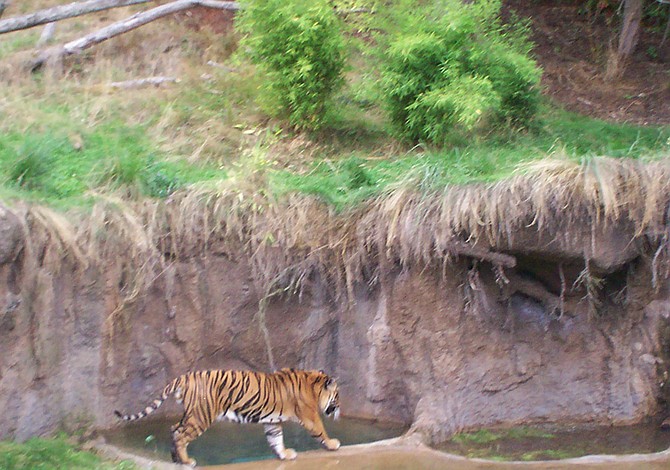 For us, the zoo was not only a place to view
zebras, wolves, hippopotamuses and tigers,
but a playground: acres of woods to explore,
a creek to have adventures, open hillsides
to slide down all winter and tumble on in the summer.
No fences, no fees, a donation please.
We bottle-fed fauns in the spring,
watching the birth of Betsy's 200 pound calf.
A pavilion where the community met
for potlucks several times each summer….
Parents made decisions about the community obligations and privileges.
Listening to the lion's roar from the back porch in the early morning,
being excited to see the captured Mr. Magoo off one of the cargo ships,
riding on the miniature Missabe train,
walking through the grounds holding hands,
proud to read the "CCC Built" signs on the rock enclosures,
Not seeing the poison ivy before it was too late
as we ran through the woods, taking a short cut on our way home.
Daily, a place to go outside to play, lessons learned, and life awareness.
A baby elephant is called a calf. It weighs about 220 pounds at birth. An adult male elephant is referred to as a bull while an adult female elephant is called a cow.
The mongoose is a prohibited animal in the United States. However, an exception was made in the 1963 case of "Mr. Magoo," a mongoose brought to the Minnesota port of Duluth by a merchant seaman. When euthanizing Magoo seemed likely, a public campaign resulted in the intervention of Secretary of the Interior Stewart Udall. Magoo lived out his days on display as the most popular attraction of the Duluth Zoo, dying of old age in 1968.
Duluth, Missabe and Iron Range Railway (DM&IR) (reporting mark DMIR) is a railroad operating in northern Minnesota and Wisconsin that hauls iron ore and later taconite to the Great Lakes ports of Duluth and Two Harbors, MN.
Civilian Conservation Corps (CCC) was a public work relief program that operated from 1933 to 1942 in the United States for unemployed, unmarried men from relief families as part of the New Deal.
Perrilee Pizzini is a member of the Burien Senior Writers Workshop.
SHARING STORIES is a weekly column for and about the 50 plus crowd living in the Puget Sound region. Send your stories and photos to ariele@comcast.net. Tell local or personal stories; discuss concerns around aging and other issues; share solutions, good luck, and reasons to celebrate; poems are fine too. Pieces may be edited or excerpted. We reserve the right to select among pieces. Photos are always a plus and a one-sentence bio is requested (where you live, maybe age or career, retired status, etc.).
SHARING STORIES is featured on www.northwestprimetime.com, the website for Northwest Prime Time, a monthly publication for baby boomers, seniors, retirees, and those contemplating retirement. The newspaper can be found in the greater Seattle area and other Puget Sound locations. For more information, call 206-824-8600 or visit www.northwestprimetime.com. To find other SHARING STORIES articles on this website type "sharing stories" in the search function above.