Beads, glorious beads! Mardi Gras in Mobile, the city that was 'born to celebrate'
Travels with Deb
Debbie Stone | Mar 27, 2017, 6 a.m.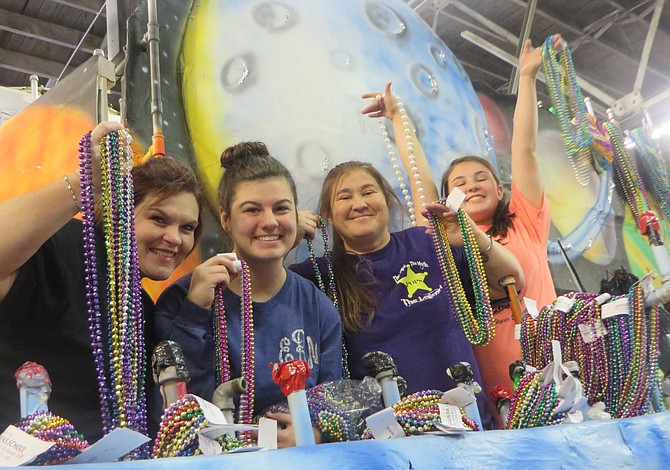 In Mobile, perhaps unlike New Orleans, Mardi Gras is all about family. Locals view Carnival as a time of family traditions and you'll see many parents with their young children gathered along the parade routes in downtown. People line the streets hours in advance to stake out their spots. You'll know when the festivities are about to begin because the noise level in the crowd ratchets way up in volume, as the police take their positions. Then you'll hear the music getting louder and it's lights, cameras, action! Floats follow one after another, interspersed by high school marching bands and dance teams. Each float is preceded by a sign with its name. The floats are typically multilevel, and sturdily built to withstand a good rocking by its riders. Some of Mobile's most famous floats are the Mystics of Time's Vernadean, a giant, rolling, fire and smoke-breathing dragon; the Crewe of Columbus' three ships - the Nina, Pinta and Santa Maria; and Mystic Stripers Society's ferocious Tiger and sleek Zebra.
Floats are well-equipped with "throws," or small gifts, that riders toss to the eager masses. Plastic beads are the most popular, followed by Moonpies, individually wrapped snacks consisting of two round graham cracker cookies with marshmallow filling in the center, dipped in a flavored coating. The confection is often associated with the American South, where they are traditionally accompanied by an RC Cola. During Mardi Gras, 3.1 million Moonpies and 51 million strands of beads are used as throws. Other items include doubloon coins, decorated plastic cups, stuffed animals, Frisbees, foam footballs, whistles and assorted small toys. Most treasured and sought after among revelers are the limited edition doubloon coins and the larger, more elaborate bead necklaces with figures of animals, people or other objects.
About 1.7 million people of all ages watch the parades each year, which includes nearly 800,000 visitors who flock to the city to take part in the festivities. As a visitor, you can participate in Carnival in a number of ways, outside of being a bystander. Le Crewe de Bienville, for example, will let you ride in their float during the parade or attend their ball, for a fee. Balls are formal affairs, often with thousands of attendees. The dress code for invitees is formal: long gowns (floor or ankle length) for women and white tie and tails for men. Members typically wear costumes and masks, allowing them to celebrate with abandon. Some of the societies still protect the identities of their members in this fashion. Additionally, each society has some type of royalty, either a king or queen or a leading lady, selected for their dedication and time given to the society by their family over the years.
I was privy to being invited to the Mystics of Time's ball, one of the largest of its kind, which was held at the Mobile Civic Center. It was a night to remember with much pomp and circumstance, including a full bagpipe assembly. This society's royalty is Father Time and his Queen (an unmarried female relative of Father Time), who hold court throughout the event. There's music, dancing, processions and food and drinks galore, with attendees in their fancy duds making merry until the wee hours of the morning.