Bill Nye the Science Guy
Bill Nye has been a household name since his hit television show, Bill Nye the Science Guy (1993-1998). His new Netflix show, Bill Nye Saves the World, premieres on April 21, 2017. He'll bring experts and famous guests to his lab for a high-energy talk show exploring "hot" topics in science and technology. Watch the trailer at www.netflix.com/title/80117748.
Bill Nye is a scientist, engineer, comedian, author and inventor, but he is best-known as the Emmy award-winning television host of Bill Nye the Science Guy.
Bill's mission is to help people understand and appreciate science. He has a knack for making science entertaining and understandable, combined with a zany flair for comedy.
William Sanford Nye was born in Washington D.C. in 1955, but the Science Guy got his start in Seattle.
In PBS's NOVA series, The Secret Life of Scientists & Engineers, Bill explained how the unlikely pairing of Steve Martin and Carl Sagan was the catalyst for his successful Science Guy character.
"I loved science from when I can't remember. When I was a kid, bicycles were just the coolest thing…Bicycles and airplanes," interests that inspired him to study mechanical engineering at Cornell University.
"Our story begins when I was a senior in college. My friend came hurrying to my house. He wanted me to see Steve Martin performing on cable television. He said, 'Look, this guy is just like you…This is what you ought to be doing!' " But Bill was focused on graduating and getting a job. He did get a job at Boeing and moved to Seattle (where he developed a hydraulic resonance suppressor that is still being used on 747s).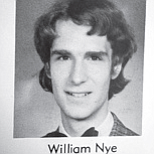 But Steve Martin came up again about a year later. "When I was working for Boeing, I entered the Seattle Steve Martin look-alike contest and I won." He started performing as Steve Martin at parties, and developed dual careers as an engineer by day and a stand-up comic by night. "After you get laughs on stage, it's addicting," he admits. He eventually quit his engineering day job to pursue comedy.
Bill met Steve Wilson, one of the people launching Almost Live— Seattle's homegrown ensemble comedy show that ended up going national. Wilson was interviewed for Popular Science about his buddy Bill. "Nye started hanging around the writers' room. He'd make these jokes—we called them jokes of the future because they weren't funny (yet). But Bill learned that if he dipped a marshmallow in liquid nitrogen and popped it in his mouth, smoke came out of his nose, which got laughs. He could entertain people using… science!"
Bill started writing for Almost Live and at the same time volunteered at the Pacific Science Center. "We were in a meeting for the show and we had to fill six minutes," he explained. The host, Ross Shafer said, 'Bill, why don't you do that stuff you're always talking about at the Science Center. You could be, I don't know, Bill Nye the Science Guy, or something.' That's how the first Science Guy bit came to be," recalls Bill, who thought it was a fantastic idea.