Radio Pudding
Sharing Stories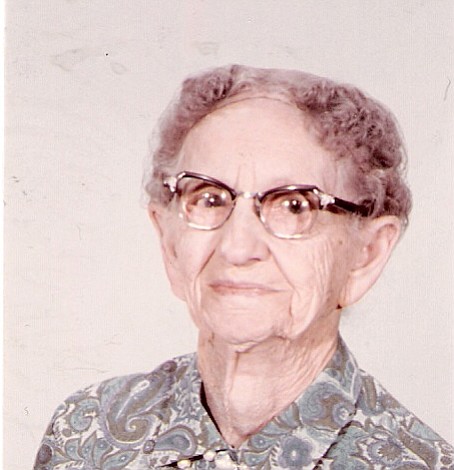 Radio Pudding
My grandmother, Clara Dora Fetterolf, went by Dora, and she was known for her good cooking. In the photo, I would say she is probably in her 90s. She lived to be 102 1/2 years old!
In my father's journal, going to my mother's home for dinner was frequently mentioned. Dora was the cook there, of course. Two consistent things in Dad's journal were going to my grandparents for dinner (before and after my parents were married) and recording the butterfat of the milk at Darigold where he worked.
I grew up living next door to my grandparents in our country home. My grandmother raised chickens for eggs and meat, and she grew vegetables and berries in her garden. Each fall, she could be found collecting black walnuts under her trees, shelling and drying them and putting them in bags to sell to a company. That was her Christmas spending money.
If my grandmother was not found in the garden, she was sitting at the kitchen table reading her bible or cooking or baking. I remember her making fried summer squash.

Living close by, my family was often blessed to eat her delicious food. Holiday meals always included two kinds of meat, two kinds of potatoes, macaroni and cheese, Jell-O salad, pickles, corn pudding, and a variety of pies. When asked what kind of pie he wanted, my husband always said, "A little bit of each." All that good food gave us fuel for our active lives. Thanks, Grandma.
The following recipe was given to my sister by our grandmother. When asked why the pudding was named "Radio Pudding," Grandma said, "Because that's where I got the recipe!"
RADIO PUDDING
1 1/2 cups flour
half cup sugar
half cup milk
half cup raisins
1 heaping T baking powder
1 egg
pinch of salt
Mix ingredients, stirring by hand. Don't over beat. Pour into 9-by-9 inch baking pan or dish.
Sauce
one cup brown sugar
two cups boiling water
one T butter
Add brown sugar and butter to boiling water and pour over batter in pan. Bake at 350 degrees for twenty to thirty minutes. Batter will rise to the top with sauce underneath. Serve warm with vanilla ice cream or whipped cream.
Pat Beaudry is a local writer who had lots of good "Grandma food."
SHARING STORIES is a weekly column for and about the 50 plus crowd living in the Puget Sound region. Send your stories and photos to ariele@comcast.net. Tell local or personal stories; discuss concerns around aging and other issues; share solutions, good luck, and reasons to celebrate; poems are fine too. Pieces may be edited or excerpted. We reserve the right to select among pieces. Photos are always a plus and a one-sentence bio is requested (where you live, maybe age or career, retired status, etc.).
SHARING STORIES is featured on www.northwestprimetime.com, the website for Northwest Prime Time, a monthly publication for baby boomers, seniors, retirees, and those contemplating retirement. The newspaper can be found in the greater Seattle area and other Puget Sound locations. For more information, call 206-824-8600 or visit www.northwestprimetime.com. To find other SHARING STORIES articles on this website type "sharing stories" in the search function above.