Neighborhoods
Sharing Stories
Ariele Huff | Jul 31, 2017, 6 a.m.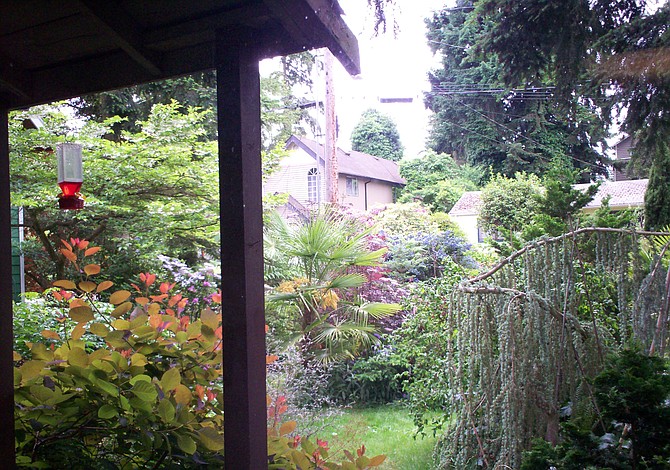 NEIGHBORHOODS
When we write about our lives, the setting is most often in our "neighborhood of origin," that enlarged home with the extended family of playmates and babysitters. If we're lucky, it's nice and we get to stay there as long as we'd like.
My childhood field of action was Greenwood, so I was pleased to discover a book about it. The author, Ted Pederson, grew up in the same area and wrote a book for Arcadia's Images of America series called Seattle's Greenwood/Phinney Neighborhood.
I especially wanted to interview him to bring back his suggestions for readers of this column about writing your own life. Pederson has written 17 books and over 150 TV series shows, so I knew he'd have valuable comments. Here are some of my questions and his answers.
AMH: Who helped you to put together this project and how?
TP: The Phinney Neighborhood Association was the most help by providing me with old photos and some memories by former JBA [John B. Allen] students. Both Greenwood School and [the] library helped with photos and reference materials.
AMH: What special challenges were there to the research and/or writing?
TP: I found at least twice as many photos as could be put in the book, so selecting those to use was difficult. I decided to do the book in chronological order, from the late 1890s up to today.
AMH: What special surprises/joys were there to the research and/or writing?
TP: One of the big surprises, which I found before starting the book, was the Tibetan Buddhist Temple at 83rd and 1st Northwest, which had been a Presbyterian Church where I went to summer school when I lived here in the late 1940s. One of the joys was walking through my old neighborhood and finding how little it had changed over the years. It remains a wonderful place to live.
AMH: My readers and students spend a lot of time writing about their past adventures, including neighborhoods. They'd love any insights about how to do that well.
TP: I've done a lot of writing workshops for students and think the most important piece of advice is from Stephen King, who has written, On Writing, the best book I know on the subject: "read a lot and write a lot."
Here are some ideas for writing about neighborhoods that I'm using in some of my Write About Your Life classes this quarter.
1) Draw it—a rough sketch of streets. Fill in homes, businesses, schools, etc. as possible.
2) Describe your home.
3) Where did you get food in this neighborhood?
4) Write about the kid-friendly businesses. (Candy store, toy store, theaters, restaurants)
5) What were some of the other businesses? Did your parents work in your neighborhood?
6) Write about your school. (Building, playground, teachers, lunches, friends, bullies, etc.)
7) Describe churches, especially the one you attended, if you did.
8) Describe any outdoor places: yards, parks, or gardens.
9) Describe some neighbors and their roles in your life. (Babysitters, leaders of youth groups, family friends, etc.)