Discover the beauty of Appalachia on a Smoky Mountains hiking trip
Travels with Deb
Debbie Stone | Jul 24, 2017, 6 a.m.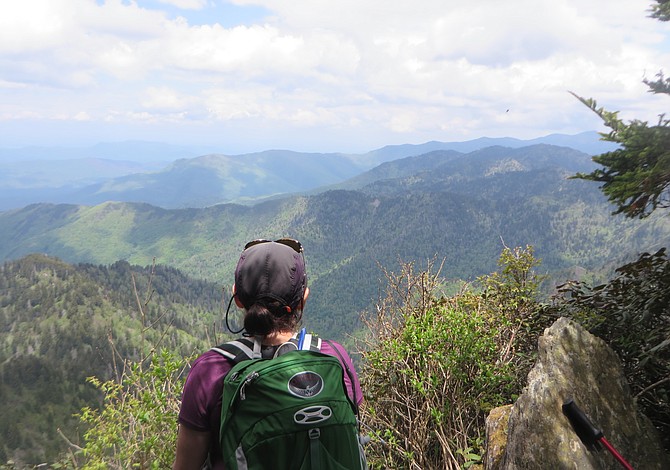 You will start and end your Wildland Trekking Smoky Mountains trip in Asheville, often known as the "Paris of the South" or "Land of the Sky." This iconic town boasts historic landmarks, cultural attractions, a dynamic arts vibe and an innovative culinary scene. A dizzying array of craft breweries keep the beer flowing like mountain water, hence the reason for another of Asheville's monikers – "Beer City USA." The place is a hub of creativity that attracts artists, musicians, inventive chefs and outdoor lovers, who thrive amid the area's natural beauty. Take the hop-on, hop-off Historic Trolley Tour for an informative and entertaining overview of the city. Knowledgeable guides will regale you with interesting facts and humorous tales of the town and the colorful characters who helped put it on the map. Check out the River Arts District, where you can stroll along streets dotted with galleries and studios. Stop in at Jonas Gerard Fine Art and watch Gerard himself at work on one of his many abstract paintings. The well-known artist is happy to chat, and you're welcome, even encouraged, to actually touch his paintings for a unique textural experience.
Head downtown to browse and window shop at the many eclectic stores, and make sure you do some people watching from one of the hip sidewalk cafés. You'll find folks of all ages in Asheville, as it's a very inclusive town with offerings to suit a variety of interests and tastes. A must-see attraction, for most, however, is the Biltmore House & Gardens. With 250 rooms and four acres of floor space, it's the country's largest private home and the crown jewel of Asheville's architecture. It has been called a "tour de force of America's gilded age" and stands as testament to the enduring vision of its creator, George W. Vanderbilt.
As you drive the three-mile approach road to the house, the anticipation begins to build. Know that your expectations will soon be exceeded once you lay eyes on this magnificent fairytale castle. Vanderbilt sought to build a retreat reminiscent of the grand palaces and estates of France and Britain and he succeeded on every level. Tours of the property and its extensive gardens are self-guided. Opt for the audio version to further enhance your experience. It's worth it. You'll travel back in time to the late 1800s and early 1900s, as you walk through opulent rooms filled with original furnishings, art and artifacts, including priceless portraits of Sargent, Renoir, Whistler and others. The library and its shelves containing 20,000 rare books is jaw-dropping. In true upstairs-downstairs fashion, your tour also includes an opportunity to see where the small army of servants lived and worked while employed at the Biltmore.
Take time to explore the grounds, as they are truly remarkable. Frederick Law Olmstead, the father of American landscape architecture, created a landscaping masterpiece that includes a naturalist forest and formal gardens, as well as a productive farm. There's a lovely Italian garden with long pools, a shrub garden, rose and azalea gardens and an English walled garden with floral pattern beds. It's a treat for the senses as you roam the pathways and take in the dazzling colors and perfumed scents.