Discover the beauty of Appalachia on a Smoky Mountains hiking trip
Travels with Deb
Debbie Stone | Jul 24, 2017, 6 a.m.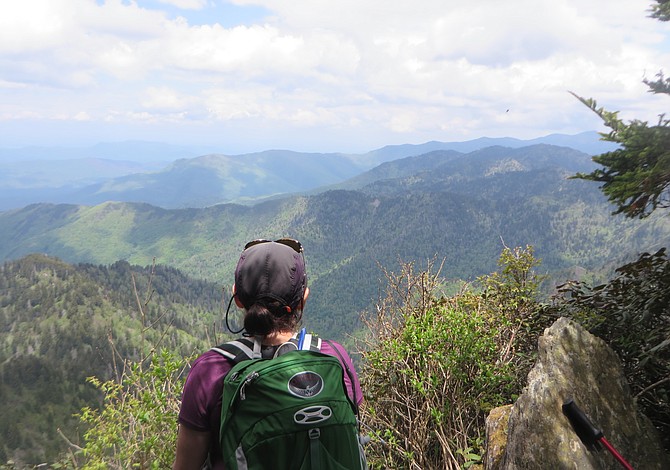 The humidity was so thick you could cut it with a knife, even a plastic one would easily do the job. At this point I was trudging up a trail, sweating profusely, swatting at annoying gnats, and solely focused on my discomfort. Ian, our guide, suddenly stopped the group and asked that we listen to the sounds around us for a moment. At first, I confess I was a bit annoyed, as I simply wanted to get to our destination as quickly as possible. But then, I had one of those "aha" moments, when I slowly became aware of the various noises in the forest, realizing that I was in the midst of this ginormous, living and breathing environment. Birds were making their distinct calls, while a host of other creatures I couldn't see were busy communicating with one another. And then there were these additional underlying sounds that I tried to identify, but couldn't, and eventually just put them under the umbrella of "nature's murmurings."
Hiking is one of those rare activities that allows you to fully explore a place at your own pace, taking time to truly appreciate your surroundings, proving that the journey often rivals the destination. On Wildland Trekking's 5-Day Smoky Mountains Hiking Experience, you'll have the opportunity to get up close and personal with one of the most naturally and culturally significant mountain landscapes in the country. The Great Smoky Mountains National Park is both a World Heritage and Biosphere Reserve Site, renowned for its diversity of plant and animal life, as well as for the beauty of its ancient mountains. It's also an icon of Southern Appalachian culture spanning back to the late 18th century. And the best way to experience this majestic national treasure is to do what the original settlers and explorers did – hit the trails.
At over 500,000 acres, with an elevation range of more than 5,000 feet from the valley to the highest peaks, the park's behemoth size is difficult to fathom. Ridge upon ridge of forest straddles the border between North Carolina and Tennessee. It's a hiker's paradise with more than 800 miles of maintained trails and nature walks where casual hikers or experienced trekkers can enjoy the most gentle or rugged terrain imaginable in the eastern U.S. The scenery is magical with cascading waterfalls, bucolic valleys, verdant forests and sweeping vistas everywhere, along with abundant wildlife and wildflowers. And if you're wondering about the park's namesake, "Smoky," it refers to the natural fog that often hangs low over the park's forests, a result of the collective exhalation of organic compounds by the forests' vegetation. That explains why from a distance the mountains appear as if they have large blue smoke plumes emanating from them.
The movement to establish the Great Smoky Mountains National Park actually began back in the early 1920s. Its creation, however, was far more complex than that of its predecessors, such as Yellowstone and Yosemite. The Park Commission had to negotiate the purchase of thousands of small farms and remove entire communities, while convincing logging firms to sell lucrative lumber rights. It also had to deal with two state legislatures, which at times were not in agreement with spending taxpayer money on park efforts. The park officially opened in 1934 with President Franklin D. Roosevelt presiding over the opening ceremony at Newfound Gap. Today, the Great Smoky Mountains National Park is the most visited park in the country with over nine million visitors annually.