Fourth of July Memories
Fourth of July Memories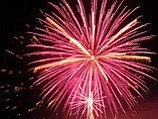 Fourth of July Memories
By Ariele M. Huff
My favorite adult was my maternal grandfather—born July 3, 1894. I sat on his lap for hundreds of stories with his colored pencil illustrations, and he called me "the mostest." His favorite reminiscences were about being a "bucket boy" for fireworks displays in his small Eastern Washington town—Pomeroy. Due to summer's dry fields, brush fires were part of July 4th displays, and bucket boys were crucial for putting them out before they could spread. Every Fourth of July, he went to the Green Lake fireworks show. Even as a child, I believed I'd have a baby on Grandpa's birthday so I'd always have someone who loved me so much in my life. My grandfather died when I was 21, and I was devastated. A few months later, I discovered I was pregnant and the due date was July 7th!
On the fourth, I felt fine and thought I'd go to Green Lake for the exhibition. My husband took one look at me and suggested that this might not be a great time to be stuck blocks away from our car in jam packed narrow streets. Though I wasn't even having any Braxton Hicks—early non-labor—contractions, I gave in reluctantly.
That was fortunate since at 6 pm, something seemed different. As the fireworks began to pop and sizzle—10pm—I started to have that "hard as a volley ball" feeling I'd been told was the way labor often begins. I was giddy with delight: My baby was going to be even closer to my grandfather's birthday than the doctor had guessed, and the introduction for this birth was my favorite sparkling light show and stirring music. Around midnight, the booms and bangs were replaced with less frequent, smaller explosions, and I was continuing to have gentle well-spaced contractions. I decided to grab a bit of sleep if possible. But I already knew this wasn't "false labor."
Five am arrived, waking me with a surety that it was time to get to the hospital. We drove through Seattle's empty morning streets, a light rain spattering the hot pavement. I was both excited and contented—an incredible feeling.
Kristi arrived on the first day her dad had arranged to take off from work, 1:30 pm. When I was allowed to hold her, the first thing she did was to pat my shoulder—just as my grandfather had. Later, she had his golden curls too. But best of all, she's now 45, and has, indeed, been the re-embodiment of my loving grandfather.

SHARING STORIES is a weekly column for and about the 50 plus crowd living in the Puget Sound region. Send your stories and photos to ariele@comcast.net. Tell local or personal stories; discuss concerns around aging and other issues; share solutions, good luck, and reasons to celebrate; poems are fine too. Pieces may be edited or excerpted. We reserve the right to select among pieces. Photos are always a plus and a one-sentence bio is requested (where you live, maybe age or career, retired status, etc.).
SHARING STORIES is featured on www.northwestprimetime.com, the website for Northwest Prime Time, a monthly publication for baby boomers, seniors, retirees, and those contemplating retirement. The newspaper can be found in the greater Seattle area and other Puget Sound locations. For more information, call 206-824-8600 or visit www.northwestprimetime.com. To find other SHARING STORIES articles on this website type "sharing stories" in the search function above.