Revisiting Woodstock with John Scheele
by Delores M. Dahl | Jul 1, 2017, 8:08 p.m.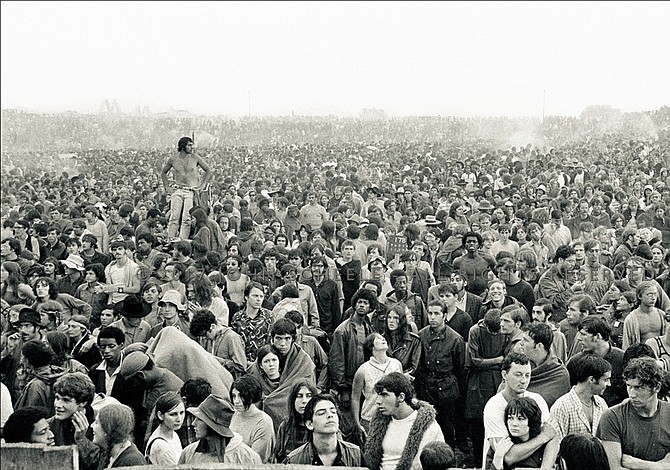 For John, these were not only exciting times, but an opportunity to develop his skill as a photographer. Some of his images were included by The Band and Bob Dylan on their album covers, including Stage Fright and The Basement Tapes. Rolling Stone magazine later featured his portrait of Levon Helm, The Band's iconic drummer and vocalist, to honor his passing in 2012.
At Harvard, John had no inkling he'd wind up in Visual Effects. "That was not yet a career path in the 1960s." But everything he learned moved him in that direction. His undergraduate degree was in Visual and Environmental Studies, and he later received a Master's degree in Film & Video from California Institute of the Arts.
John's parents had provided a home where art and nature were vital parts of daily life. "My parents were both superb artists and champions for the natural world. Although I could draw and paint at a certain level of skill, I had a better eye for camerawork and wanted to head off in a different direction from my parents.
"My father, William E. Scheele, was the long-time Director of the Cleveland Museum of Natural History. He helped set aside sensitive natural areas like Ice Age bogs and forests during those years. I met Rachel Carson and Justice William O. Douglas when they spoke on wildlife and conservation at museum events. Later, my father became head of the World Wildlife Fund and traveled to Sweden to expand that work."
John's parents taught their three sons respect for the natural world, its past and present, and its connection to the future. It was a daily lesson and created a reverence for nature that continues to inspire John. "My mother, Joann S. Scheele, was an editor and writer. For many years, she put together the Museum's magazine, The Explorer, which focused on conservation issues. She used my crowd photo from Woodstock as one of her magazine covers, which meant a lot to me."
Though photography and film became his career choice, environmental concerns remain a keen interest. That came easily to kids growing up in "Woodpecker Woods," their 75-acre natural preserve in rural Ohio. With streams and an ancient forest to explore, John and his two brothers had the opportunity to observe nature – and learn to be patient. "I remember, as a four-year-old, slowly stalking a robin around the yard for hours on end until I could finally touch its tail.
"My love of nature is with me always. And like my father and grandfather, I became an avid collector, winning awards for my butterfly collection and even contributing a record-size Eastern Red Spotted Newt to the Museum's permanent archive."
One of John's favorite things was watching his father create the Museum's life-like exhibits and dioramas. That same kind of patience and attention to detail are necessary skills to be a first-rate visual effects artist. "It can take many years to research a film and develop its look," John says. "It's even more complicated than stalking robins!