Leaving the Rat Race for the Wild Life
...and finding a dream retirement destination
Jul 1, 2017, 9:25 p.m.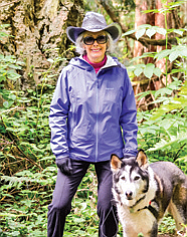 Where does a stressed-out motivational speaker from Los Angeles go when she wants to leave the rat race? To Washington State's own Whidbey Island – home of eagles, tall trees and endless shorelines.
Diane de Mere was a successful corporate trainer and image consultant. But it was definitely a 'rat race' kind of life. Instead of teaching about managing stress and making the most out of life, Diane wanted to actually live it.
Diane and her husband, Kent, grew up in the St. Louis area. "He worked for McDonnell Douglas, which eventually became Boeing. I worked for IBM," says Diane. Then the couple moved to Los Angeles to follow Kent's career and Diane decided it was the perfect time to start her own business as an image consultant and corporate trainer.
Diane's other focus was animal rescue. "I started in St. Louis and when we moved to Palos Verdes, I connected with several women rescuing feral cats living in the hills and canyons." They worked with local vets and adopted out all the cats they could socialize. Diane also volunteered for and raised funds for local charities.
In 2004, Kent's career took the couple to Seattle. It was at that point that Diane decided to research and practice stress management – she wanted to drop out of the 'rat race.'
"It was absolutely thrilling driving up to Seattle from L.A in a long 33-foot RV with 13 of the recued cats that I couldn't adopt out, plus a rescued dog, too! It was the huge forests everywhere once we hit Oregon that took my breath away."
After the move to Seattle (actually the Burien/Normandy Park area), Diane realized that their secluded neighborhood along the coastline overlooking Puget Sound was a dream come true. "It was heavily wooded and the ambience of living with nature all around us stole my heart. Otters, eagles, ducks and (sometime even orcas) were daily sightings."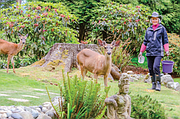 But when it was time to retire, the couple looked for a house that did not need as much maintenance and one with fewer steps. "I had to have a place that overlooked the water," says Diane. "I wanted to continue to live in a place that had bountiful greenery and nature all around. We started taking day trips along the coastline," she adds. One day they visited Whidbey Island, and that was it. "We settled on a lovely one-acre with a 1970 house with great bone structure that we could remodel over time. Most importantly, it had a pair of bald eagles living in the 80 foot tall Sitka Spruce in the back yard overlooking Admiralty Inlet.
"We had considered Hawaii, Florida or back to California, but the closeness to wildlife, the moderate temperatures, and very importantly, these huge evergreen forests were all very important factors for us," says Diane of choosing the perfect retirement destination.
What she likes best about living on Whidbey is the slow pace of life and being surrounded by nature. "They call it 'island time' here. Everything is slower and it flows into every part of your being."