Tracking Down Granddad
Joyce Lindsey O'Keefe | Jan 29, 2017, 3:53 p.m.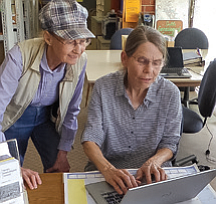 "But where was Granddad really born?" my husband asked. We stared at the mess of papers spread before us. A letter sent to Social Security 45 years ago claimed his birthplace as Mallow, County Cork, Ireland. But ancestry.com stated he was born in Youghal, a small town further to the southeast. No one alive knew the truth.
Like many who wonder about their origins, we had attempted to research Granddad on our own, without stunning success. We knew he'd immigrated to the U.S., and approximately when, but the person we found on the immigrant ship's list did not match Granddad's description well — and had departed from the wrong end of Ireland, nowhere near Granddad's location before his journey westward.
What to do?
Ask an expert! We went to the Seattle Genealogical Society. Here volunteers offer classes to help beginners start their research, and topics for those more advanced.
Founded in 1923, SGS is one of the oldest genealogical societies in the U.S. Its library holds more than 15,000 genealogical books (for use in the library only). There are over 500 members, however anyone may use the library facilities. Knowledgeable assistants direct researchers to the best data bases to begin their searches, or to employ when a "brick wall" has been hit.
Remarkably, this entire operation is run by volunteers. It receives a small grant from King County's "4 Culture" fund, which helps underwrite its extensive library, and donations from those who use its services.
We were fortunate to arrive on a slow afternoon and, for a while, we had help from two experienced volunteers. Jean and Christine dug into different online databases, teaching us as they looked for Granddad. It did not take them long to dismiss our erroneous "ship man" – who was not Granddad – but it did take a while to find the transatlantic steamer Granddad used to cross to New York. We identified the correct ancestor by his profession, age and other characteristics listed on the ship's manifest. In turn, that manifest told us his true birthplace, which was neither Mallow nor Youghal!
After this, Jean showed us on a map where Granddad was born: a tiny village near Cork's present-day airport. I asked Jean if going to Ireland would help with our research and was surprised to hear we could probably learn more, faster, right at SGS! Christine said, "The best part is that you'll find kindred spirits [at SGS] to help you locate and use these resources." She pointed out that, "The biggest mistake researchers make is giving up too quickly."
SGS offers numerous teaching forums. On "Tech Tuesdays," a seminar concentrates on software, genetic genealogy and internet research to trace family histories. Attendees may bring laptops or mobile devices for demos. Special Interest Groups (i.e. Irish, German) meet monthly. Twice a year, an all-day seminar is presented on a selected topic or by a nationally-known genealogist. The Society also produces numerous publications. Some are only for members, but others are available for purchase by the public, either when visiting the library or online.
For those who can't come into the library, SGS offers research services covering materials in their collection, obituaries in Seattle newspapers and more – all for a reasonable fee. Of course, it's impossible to guarantee results.
Want to learn about your ancestor? Gather up your papers and head to SGS!
The Seattle Genealogical Society office and library: 6200 Sand Point Way NE, Seattle. Hours: 10am to 3pm Tuesday through Saturday and 1pm to 5pm Sunday (closed Monday). Phone: 206-522-8658. Website: www.seattlegenealogicalsociety.org. A 501c(3) non-profit, SGS cheerfully accepts donations of volunteer time, genealogical materials and funds to keep their collection vibrant for all interested researchers.