Nancy Nordhoff
Northwest Philanthropist and Environmental Extraordinaire
Jan 29, 2017, 3:22 p.m.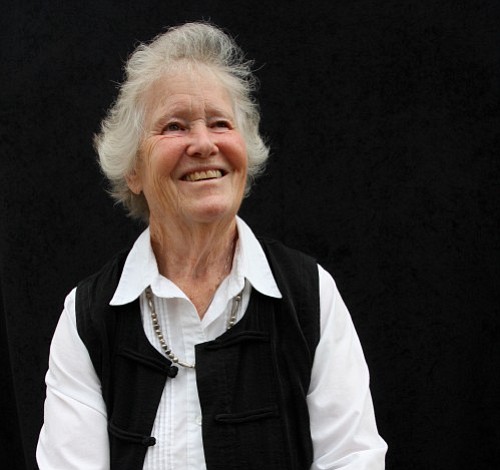 But as she walked the land, she felt it telling her it wanted to be something else.
"It was too much for me," says Nancy. "The land was too large, there was too much to be done. But it was a place that really cried out to be used. So the question was what to do. And the answer came: women writers, women's voices…"
"What I think is so extraordinary about Nancy Nordhoff is that she was seeking home and she chose instead to create a home for other women," exclaims Amy.
The original plan was simple: a few cozy cottages and lots of time and space to write.
"I wanted Hedgebrook to be family-like, friendly and welcoming," says Nancy.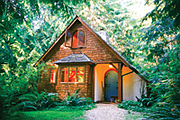 Working with her friend, writer Sheryl Feldman, and a group of architects, artisans and advisors, Nancy transformed the farm into a 48-acre haven for women writers. The retreat was designed to put the writer's needs and comforts at the center of the process. Seven cottages were crafted in the Amish "post-and-beam" style to feature writing and reading areas, a wood-burning stove for warmth, a small kitchen and a sleeping loft, with thoughtful touches such as stained glass windows to catch and prism the light, and fixtures designed by local artisans.
Nancy worked alongside the builders and craftspeople, siting the cottages herself to ensure that a writer can see the lights of another cottage through the trees at night when she is burning the midnight oil. "So she's in solitude, but not alone."
Nancy believes it is important for women to trust their own instincts and rely on their own resourcefulness. With that in mind, she wants the women at Hedgebrook to know how to build fires in their cottages. "The first fire is laid for the writer. After that, she's on her own!"
But everything else is taken care of, including meals. The women fill their time as they choose. Nancy encourages them to connect with the land and nature while in residence—walking through the woods or to nearby Double Bluff beach, spending time in the garden, writing at a bench by the pond, or soaking in the views.
A writer's time is her own. The only requirement is that everyone meet for dinner at the property's old farmhouse, to join the community of women.
The chef prepares dinner and clears the dishes at the end of the meal so that writers can stay engaged in conversation. "It's amazing how hard it is for most women to let someone else clear and clean her dirty dishes!" observes Amy.
"I started using the phrase radical hospitality to describe what happens here," she explains, "because I felt like we needed a way to talk about the transformative experience that women writers have when they are nurtured in this way." All women have to do while they are at Hedgebrook is to be a writer. They come to Hedgebrook for their work and that's such a rare experience for women who are used to nurturing others.