Nancy Nordhoff
Northwest Philanthropist and Environmental Extraordinaire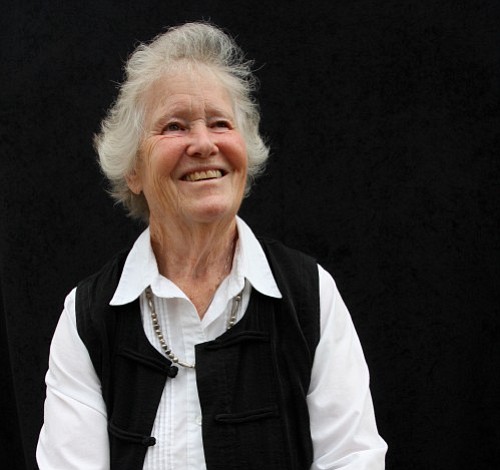 Nancy Nordhoff comes from a long line of philanthropists, yet her own brand of hands-on, roll up your sleeves generosity makes her a true original.
While Nancy has dipped her hand into countless ventures helping people and communities, she is best-known for founding Hedgebrook, a writer's retreat for women on Whidbey Island…a simple description that does not begin to describe Hedbebrook's positive ripple effect felt 'round the world.
Raised in Seattle's Laurelhurst neighborhood, Nancy was the youngest of three children. Generations of her family are recognized for their charitable endeavors, including her grandmother, Jeannette Skinner, a founder of Seattle Children's Hospital. Nancy's brother, D.E. Ned Skinner, was a key figure in the 1962 Seattle World's Fair, an early investor in the Seattle Seahawks and a great supporter of the arts. Her sister, Sally Behnke, was one of the community's most influential leaders, with a particular interest in serving Seattle's health and medical organizations.
Nancy's path into the family's 'good works' business started with an adventurous twist. After school, she obtained her pilot's license and flew a single engine Piper Tripacer across the country during her early days of philanthropy.
Hedgebrook came decades later, but the idea for a retreat for women writers may have been planted at a young age. Nancy went to Seattle's St. Nicholas, a private all-girls school, then on to earn a degree in chemistry from Mount Holyoke women's college. She carries a deep personal commitment to nurturing women and supporting their vision. With Hedgebrook, Nancy created a community in which women can thrive and raise their voices.
"I'm a person who's been in the not-for-profit world most of my life," notes Nancy. Over the years, she's seen that most great ideas never get off the shelf. "This is one that went into action," she says of Hedgebrook. "And that, to me, has really been the best accomplishment in my life…outside of the three children I gave birth to," she adds with a smile. Nancy's children have followed in her philanthropic footsteps, and generously support a number of Puget Sound nonprofits.
"In August 1988, Hedgebrook opened to its first session of writers," states Hedgebrook's Executive Director, Amy Wheeler. "Over time, nearly 2000 writers have lived and worked in Hedgebrook's cottages, generating thousands of novels, poems, plays, screenplays, memoirs, works of non-fiction. Literally millions of people have experienced the work that has been generated in our cottages."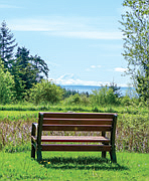 It all began on an old dairy farm on Whidbey Island, overlooking Useless Bay, with a sweeping view across Puget Sound to Mount Rainier. It's a beautiful place, filled with meadows and forest, streams and wildlife.
At a transformative time in her life, Nancy left her volunteer projects behind, bought a van and drove the country seeking to find her place in the world. She was looking for a place to call home.
"I was in a time of change," recalls Nancy. "Change was coming, and I wanted to be anchored with a new place." The Whidbey farm appealed to her because it had everything she wanted: "It had pastures, trees, old buildings. So it was perfect for feeling at home."