Everything Old Is New Again
Part II
Diana Mercedes Howell | Jan 29, 2017, 3:59 p.m.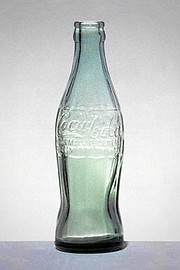 Warning: That Coke you're drinking is NOT the "Real Thing". If you want the "Real Thing," you'll have to buy imported Coke. Mexican Coke is made with pure cane sugar. For 30 years, American Coke has been made with high fructose corn syrup. Que lastima! Corn syrup sweetener is cheaper. Coke claims no one can tell the difference, but do your own taste test. The "Real Thing," made with cane sugar, is back by popular demand and can be found in the singles cold drink section. You'll recognize the familiar contoured bottle. By the way, only American Coke is sweetened with corn syrup – Hmmm, seems un-American.
1941 marked the year of the last Seattle electric rail street car. Too many people driving too many cars led to the demise of the rails. Ironically, too many people and too many cars have led to the resurrection of street car lines and/or light rail. We now have the First Hill Line, the Capitol Hill Line; the U-District line, the SeaTac and back line, and much more to come. Maybe we had it right in the first place!
And maybe it's all that yoga...another resurfacing trend that is causing us to push the pause button and take some time to de-stress. Yep, there's a coloring book entitled 'The De-stress Coloring Book for Adults'. Coloring books are back! And why not? We used to create things...we used to make our own dresses and cook everything from scratch. Now, not so much. The creative gene still needs feeding though, and what is cheaper and more convenient than a coloring book and a few colored pencils?
How did coloring books for adults come to be the rage? One of the earliest innovators is Brit illustrator Joanna Bashford, who's Secret Garden Coloring Book is a million-seller. The intricacy of her pen and ink drawings whisper, "Color me." She says coloring is a wonderful way to recharge after work. And the numbers back her up. Last year twelve million of these adult coloring books flew off the shelves. This old, quiet-time diversion is new again. Color me surprised.
Whoever thought that iffy burrito food truck parked permanently at the neighborhood gas station would, out-of-the-blue, become one of the fastest-growing small businesses in America? The new twist on this oldie is exotic menus (Indian - Asian - Caribbean) but also gourmet updates of old standbys. You have The Ultimate Melt and Tat's, both exceptional purveyors. The Tat's cheesesteak was pricy; to me anyway, $10.50 for a generously sized cheesesteak, but it was THE best I have ever enjoyed! The Seattle Times wrote rhapsodically about the food truck Nosh. Their "crispy... gossamer secret-local-beer batter long, lovely, thick, moist, sustainably sourced Pacific cod fillet...fish and chips." Wow! Is your mouth watering, too? Truck locations and schedules are listed at seattlefoodtruck.com.
Some things never fade away and never change: gleaming white walls, the free piece awarded to every customer even when you end up buying just a 1/4 pound. The spotless white uniforms with the big black bow worn by the mature lady – mistress of the artfully arranged array behind the glass who waits patiently for you to make up your mind, are the same as they always were. The shopping experience is a major part of the allure. Have you guessed? Yep, Sees Candy. Exactly the same today as it has been since - forever? And oh, the chocolates are good, too.
Diana lives in Bellevue