Cheese, please. Sweet or savory ricotta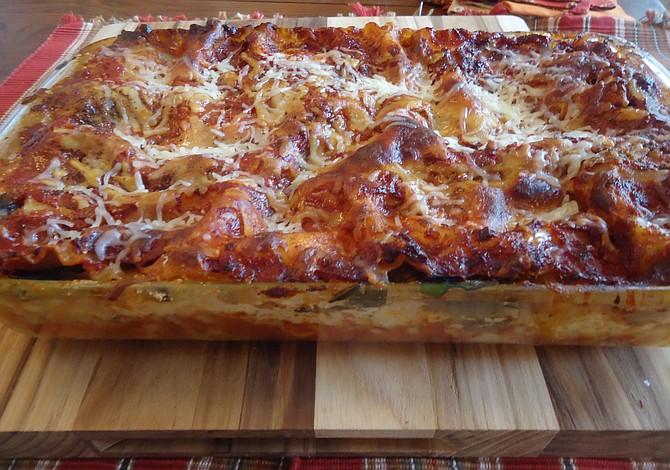 The other day I got carried away and made a lot of ricotta. Because it is relatively low in salt, it doesn't keep very long – about a week in the refrigerator. Therefore I had to find several recipes to use it up.
Think of ricotta as cottage cheese's sophisticated older sister, but without a lot of added salt. Most cottage cheese contains about 500 milligrams of sodium per half cup, a hefty hit against the daily 1,500 -2,000 milligrams recommended for Americans. Most ricotta contains about 150 milligrams per half cup, even less if it's homemade.
Use ricotta in lasagna and other pasta dishes, or mix into a dip or topping for veggies, crackers or pita. Since it isn't super salty, ricotta pairs well with fruits and berries. It stars in the fancy Italian dessert cannoli, which are pastry shells filled with ricotta, powdered sugar, citrus and chocolate.
If you are adventurous, try making your own ricotta. As with making bread, you need to "babysit" it, but the work is minimal. You just need to be around to follow through. Equipment is simple: a thermometer, a colander and a cheesecloth.
Homemade ricotta
1 gallon whole, nonfat or low-fat milk, not ultra pasteurized
1/4 cup white or cider vinegar or lemon juice
Pour milk into a large pot. Heat until temperature reaches 195 degrees Fahrenheit, stirring constantly to prevent scorching. When the milk reaches temperature, remove from heat. Stir in vinegar or lemon juice, let stand for 10 minutes. The milk should separate into a flaky white solid part (curds) and a yellowish liquid (whey). Line a strainer with a cheesecloth and set over the sink or a large bowl. Pour milk through the cloth-lined strainer. Let the curds drain in the strainer for half an hour. Discard whey. Place curds in a large bowl, separating and tossing with a fork. If it seems overly dry you can add a little milk or cream and fluff it. Cover with plastic wrap and store in the refrigerator until ready to use. Fresh cheese will last about a week.
Nutritional information (per 1 ounce):
Calories: 17, Carbohydrates: 1 grams, Protein: 1 grams, Sodium: 12 milligrams
Quick feta lasagna
1 pound penne pasta
1 bunch fresh spinach
Handful of fresh oregano, basil, thyme and/or parsley
1 jar of low sodium tomato sauce
2 cups low sodium ricotta
Heat oven to 350 degrees Fahrenheit. Boil pasta until just tender, drain. In a large casserole dish, layer pasta, spinach, fresh herbs, tomato sauce and ricotta, then another layer of each. Bake for 30 minutes. Let set 5-10 minutes before serving. Serves 8-10.
Nutritional information (per serving):
Calories: 344, Carbohydrate: 52 grams, Protein: 17 grams, Sodium: 105 milligrams
The information in this column is meant for people who want to keep their kidneys healthy and blood pressure down by following a low-sodium diet. In most cases, except for dialysis patients, a diet high in potassium is thought to help lower high blood pressure. These recipes are not intended for people on dialysis without the supervision of a registered dietitian.

[Katy G. Wilkens is a registered dietitian and department head at Northwest Kidney Centers. A recipient of the Susan Knapp Excellence in Education Award from the National Kidney Foundation Council on Renal Nutrition, she has a Master of Science degree in nutritional sciences from the University of Washington. See more of her recipes at www.nwkidney.org.]