Sweetheart meals for your heart
Take your loved one out to dinner for National Heart Month and Valentine's Day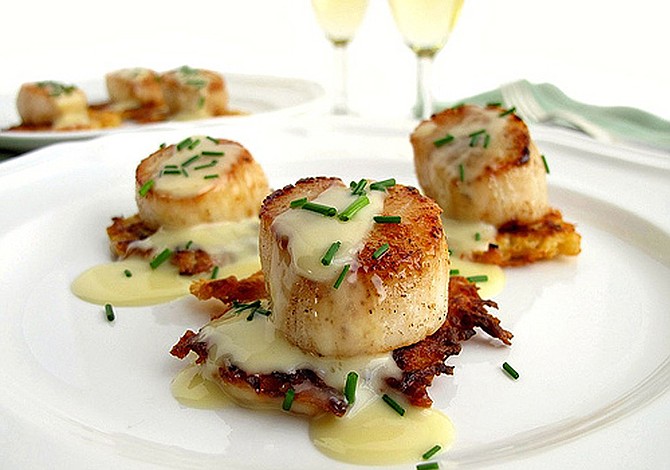 Let's face it – we love to eat out! No grocery shopping, no messy kitchen, no dishes! So it comes as no surprise that most Americans eat two meals a day away from home.
Since February is host to National Heart Month and Valentine's Day, it's a great time to take someone you care about out to dinner. But remember – be kind to your heart while treating your sweetheart! Here are some sweetheart tips for ordering heart-healthy meals at restaurants
Drool ahead. Most restaurants post menus on their Web site. It's online where, in the logic of daylight, you can choose your favorite healthy menu items. On some sites, you can even order ahead.
Customize. Almost every restaurant will customize your order. Many restaurants will even let you make up your own menu. Request grilled seafood on top of your pasta, with a drizzle of olive oil and parmesan cheese, or a side salad instead of salty soup.
Share. Most restaurant portions are big enough for two, so a great option is to share a meal with your date. If you both want different items, take half your order home with you for lunch the next day. Another way to cut back is to order an appetizer as your main course, along with a salad, bread and dessert.
Eat dessert. Don't skip dessert – it may be one of the least salty items on the menu. Fruit desserts are often low in salt and sherbet is always a good choice. Or, what could be more romantic than cheese cake, chocolate mousse or a brownie for two? One dessert, two spoons!
Keep the flavor but not the salt when choosing what to order. Check out these other restaurant ideas for ordering heart-smart meals.
At a steak house, choose a reasonably sized cut and ask that it be grilled and seasoned without salt. Salads are always a good choice, but you are better off with the house rather than a Caesar salad. A baked potato is a great choice; just ask for the butter and sour cream on the side, so you can control how much you get. If you're ordering seafood, ask for lots of garlic and olive oil rather than butter.
If you're going Italian, ask the restaurant to substitute olive oil for butter. Try sautéed spinach in olive oil with grilled scallops or salmon. Add a dish of sherbet or spumoni ice cream for dessert and you are set!
A last sweetheart tip: Consider treating your sweetheart to lunch instead of dinner. Lunch can be less expensive and portions are usually more reasonable. Pair it with a movie, visit to the zoo or walk along the waterfront for that extra romantic touch.
[Katy G. Wilkens is a registered dietitian and department head at Northwest Kidney Centers. A recipient of the Susan Knapp Excellence in Education Award from the National Kidney Foundation Council on Renal Nutrition, she has a Master of Science degree in nutritional sciences from the University of Washington. See more of her recipes at www.nwkidney.org.]