Meet Mark Bryant, Senior Fitness Expert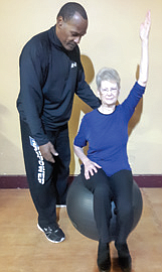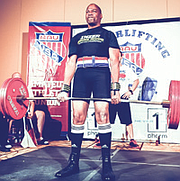 Mark Bryant is a popular fitness instructor and powerlifting champion who lives and works in Seattle's Columbia City neighborhood. He also writes a monthly senior fitness tip for Northwest Prime Time. Mark has received media attention over the years for his work with seniors, but not many know about the obstacles he's overcome on the way to success. Mark says he can come across direct or abrupt to those unfamiliar with him (the mark of a native New Yorker, he'd say), but it's his ability to inspire laughter in the middle of extreme exercise that has endeared him to his students, young and old.
My drive to help was forged during childhood. It was brutal. Born and raised in the Queens section of New York City, life was okay with my mother and brother until my mother met a man who was an alcoholic. That began a decade of physical abuse that I and my mother suffered at the hands of this man who called himself my stepfather.
I didn't have a refuge inside or outside the house. The neighborhood was overrun by gangs. I dreaded school after being assigned to special-education classes because of learning difficulties related to a premature birth and limited vision. Home life became increasingly volatile while my stepfather belittled me. He once beat me so badly as a 12-year-old that I nearly died.
But while my body healed, an acquaintance started telling me the names of the bones in a person's body. This information struck a chord, and I decided to learn them for myself. I became increasingly interested in how the body worked, and wanting to learn more motivated me to become a better reader. Around that same time, I took up martial arts, which gave me more confidence and meshed with my new interest in the body.
In my early 20s, the man who had made my life miserable was no longer allowed to live in my mother's house. But he attacked me with a hammer, striking my head. I defended myself and we fought until we both landed in the hospital. Only then did I discover that my mother had been admitted earlier that day. The man was committed to a mental health institution.
A few years later, I moved to Seattle, got a job as a fitness instructor at the YMCA and earned a college certificate as a health and fitness technologist. I also took leadership classes and I continued my dedicated practice to martial arts and weightlifting. Along the way, I met people who helped make life better. When I moved to Columbia City, I met fitness entrepreneur and friend Bull Stewart.
Bull is the owner of Columbia City Fitness gym, and he presented me with the opportunity to teach senior classes at the Southeast Seattle Senior Center. When I started working with seniors 11 years ago, my life took a turn for the better.
One example is working with Matthew Jones. After a debilitating injury, Matthew (now 71) was attempting a return to powerlifting. Matthew told me, "I had met with many so-called trainers who weren't able to give me valid advice. You were the first trainer that could explain what muscles were being impacted when I'd lift and which ones weren't. When you're older, you have to train differently. This convinced me you were the guy I wanted to train with, and inspired me to start competing again."