Limited Mobility Adventures
Ideas for enjoying our Pacific Northwest
...by Jessie J. Owen | Dec 30, 2017, 3:07 p.m.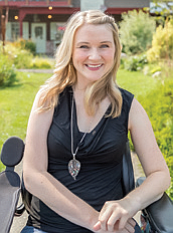 After a full day of activities, you will need to find a place to lay your head. Cape Disappointment's campground offers ADA restrooms, trails and parking spots if you are the camping type. If you are more into a hot shower and cable TV, use their website (www.funbeach.com), which allows you to filter through the lodging and sort by ADA rooms and amenities. Feel free to bring along your furry pal, as much of the city is ready to accommodate you and Mr. Fluffy. Just double check with your hotel first.
I think Rick Steves said it best when he proclaimed that "Travel is a fountain of youth." Whether it's sipping a cold one in your backyard or holding the perfect cup of coffee overlooking the ocean, there's much to enjoy in the PNW no matter what your physical abilities are.
Find more tips and tricks for traveling with a disability or low mobility at https://JessieThinks.com
MORE INFORMATION
• Northwest Trek, 11610 Trek Drive East, Eatonville, 360-832-6117, www.nwtrek.org
• Museum of History & Industry, 860 Terry Ave N, Seattle, 206-324-1126, www.mohai.org
• Museum of Pop Culture, 325 5th Ave N, Seattle, 206-770-2700, www.mopop.org
• Long Beach Visitors Bureau, 3914 Pacific Way, Seaview, 360-642-2400, www.funbeach.com