History comes alive at Chaco Canyon
Travels with Deb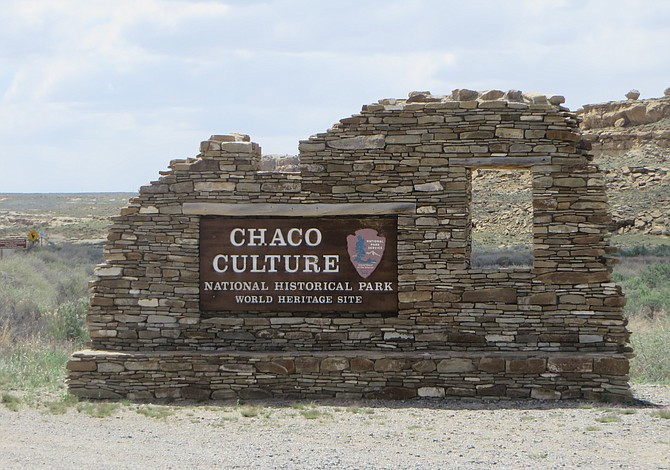 You can almost hear the voices of the ancestral people as you stand amid the ruins at Chaco National Historical Park in Northern New Mexico. They seem to echo within the walls of this monumental architectural site that was once home to a vibrant center of Puebloan culture some 1,000 years ago. As you look around, it's hard to believe that the high-desert landscape, harsh winters and short growing seasons were conducive to the creation of such an achievement. Yet, this valley became the hub of an advanced social organization and community life that thrived and flourished for centuries.
It all began in the mid-800s, when the Chacoan people started building massive stone buildings or Great Houses with hundreds of rooms. Early on, they used the dark brown sandstone from the nearby cliff tops; later, they preferred the light tan sandstone from the lower canyon walls. Construction of some of the buildings spanned decades or longer and although each is unique in its own way, they all share recognizable Chacoan architectural features: planned layouts, multistoried construction, distinctive masonry, spacious rooms, open plazas and huge subterranean ceremonial chambers called "great kivas." The latter most likely served as gathering places for different communities in the region and could have accommodated multitudes of people at one time.
As you head into Chaco, you'll notice that the road leading into the park is unpaved and rough. While you drive in the comfort of your vehicle consider that the Chacoans developed hundreds of miles of prehistoric roadway which they used to carry goods. This extensive system of trails also linked Chaco to outlying communities and resource areas. They were planned and engineered paths that required extensive labor to build and maintain. At the Great Houses, you'll see numerous double and quadruple road segments leading to and from the structures. Archaeologists think these may have been related to various ceremonial rituals, as well as have been a reflection of the puebloan world view.
On a guided walking tour of the various Great Houses, visitors learn that the structures were typically oriented to solar, lunar and cardinal directions. Surrounding them were sophisticated astronomical markers, communication features, water control devices and formal earthen mounds. The setting for these structures was against a backdrop of sacred mountains, mesas and shrines that continue to have deep spiritual meaning for many Southwest Native American descendants today. For them, the place is still alive and speaks of ancestry, survival, spirituality and connections.
The most thoroughly investigated, visited and renowned cultural site in Chaco Canyon is Pueblo Bonito. It was the most important of the Great Houses and served as the center of the Chacoan world; a sphere that eventually covered much of present-day Southwest. Built in stages, the structure eventually towered four stories high with over 600 rooms and forty kivas. Most archaeologists now believe that Pueblo Bonito and the other Great Houses weren't traditional farming villages as originally thought, but probably examples of impressive public architecture used for commerce, trade and ceremony on a seasonal basis by many different clans. At Pueblo Bonito, for example, there are rooms with platforms stretched out midway between the floor and ceiling, suggesting that these "shelves" could have been used as sleeping areas for Chaco's visitors.