Mountains, monasteries and more in the mystical 'Land of the Thunder Dragon'
Travels with Deb
Debbie Stone | Aug 28, 2017, 6 a.m.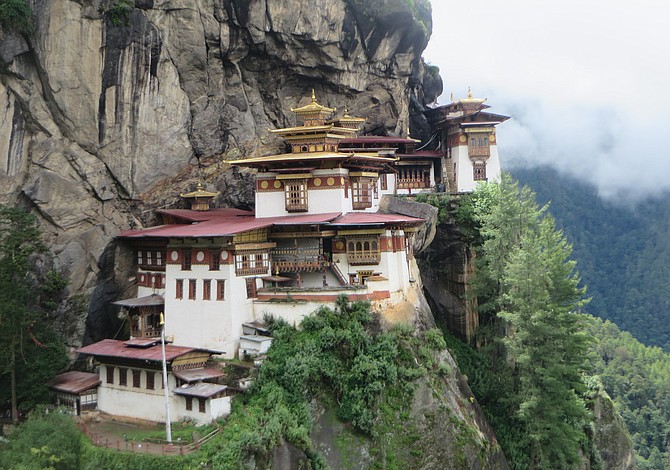 As you travel throughout Bhutan, you will see affirmations directed towards this idea of happiness. There are signs posted everywhere along the roads that offer mantras, such as "Life is a journey! Complete it!" or "Let nature be your guide," and my favorite, "Fashion your life as a garland of beautiful deeds." They give a person pause to think about his/her actions and consider how they are affecting quality of life. But, make sure you don't get too absorbed in these musings, as you might just hit a cow in the process! Cows, which are considered very important in Bhutanese life due to the many products they provide, are ever-present and roam the roads freely as if they own them. It is an onus on the driver to avoid these creatures by swerving every which way and making liberal use of the horn. The same goes with the stray dogs that tend to roam in packs, particularly in the cities. A word of advice: bring earplugs if you don't want to stay up all night listening to their howling chorus!
Bhutan is not a rich country by economic standards, but it has a richness seldom found elsewhere. It's in the the natural beauty of the scenery and ancient buildings, combined with the grace and warmth of the people, as well as the genuine spirituality that derives from their Buddhist beliefs. More than a religion, Buddhism is a way of life that permeates every facet of secular existence, bringing with it a reverence for the earth and its well-being along with the desire to be mindful and aware of one's thoughts and actions. The Buddhist path is one of wisdom and understanding with the aim of leading a moral life.
As a visitor to the country, you can't help but notice the presence of Buddhism everywhere you go. It's in the massive dzongs (monastery fortresses), temples, monasteries, stupas (receptacles for offerings), fluttering prayer flags and golden prayer wheels that punctuate a landscape of dazzling rice fields and villages unchanged by time. You'll hear the chime of ritual bells and the sound of gongs, while observing throngs of people circumambulating the stupas and shaven-headed monks in red robes conducting assorted rituals. They serve as testaments to the importance of Buddhism in Bhutanese life.
On Myths and Mountains' "Bhutan and its Buddhist Traditions" trip, participants do more than simply visit noted sites in typical tourist fashion. The focus instead is more on developing an understanding of Buddhism and its teachings, and how the various beliefs are interwoven into the cultural fabric of the country. It's an experiential journey that offers many opportunities to be immersed in the rituals and practices, as well as to interact with the people on a personal level. This type of approach allows one to go beneath the surface, to gain deeper knowledge and increased perspective, and maybe even achieve greater consciousness in the process.
One morning, for example, our group started the day early with a cleansing ceremony at a temple in the capital city Thimphu. A Buddhist monk conducted the ritual which included chanting, prayers, lit candles, and the use of water and rice, which were either dripped or strewn to disperse any bad energy. At the conclusion of the ceremony, the monk tied a blue string around each of our wrists signifying we'd been blessed, and sending us off with a wish for good luck in the future.