Mountains, monasteries and more in the mystical 'Land of the Thunder Dragon'
Travels with Deb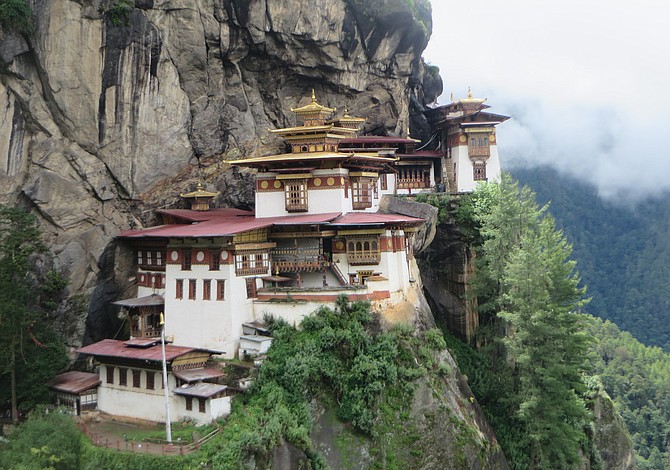 A revered lama and leading astrologist, Master Wengdi of the Paga Monastery in Bhutan, told me that I'm a fire monkey, born under a metal sign that imbues me with confidence and energy. Driven to success, I often gravitate towards leadership roles where I can exercise control and call upon my ability to draw people to me. But, I can be competitive and stubborn (true), allowing my strong will and needs to overwhelm me, sometimes making decisions based on emotion and not logic (also true). To help balance the forces within me, Master Wengdi recommended that I practice patience and focus on doing more acts of compassion in my life. He ended my astrological session by telling me that 2017 is a lucky year for fire monkeys, but that I should take precautions to avoid being near construction sites in the coming months. And, oh, I should also wear brighter colored clothing.
I had gone on a trip to Bhutan with Myths and Mountains, a highly acclaimed tour company, to learn more about this tiny kingdom in the Himalayas and its deep-rooted Buddhist traditions. However, I never expected that in the process I would have a personal spiritual journey. Known as the "Land of the Thunder Dragon," Bhutan, with a population of roughly 750,000, is nestled between two powerful neighbors: China in the north and India in the south. Almost completely cut off for centuries, the country began to open up to foreigners and some aspects of the outside world in the 1970s, while continuing to fiercely guard its ancient mores. The fear has always been that external influences would undermine Bhutan's monarchy and culture. In fact, television didn't even come to the country until 1999, followed later by the internet.
Visitors to Bhutan will discover that it is no ordinary place, but rather a realm shrouded in mystery and magic. Some consider it to be the last "Shangri La." The kingdom is notable for its lofty peaks, venerated religious sites, diversity of flora and fauna, and distinct national identity based on Buddhism. Its dramatic landscapes range from subtropical plains to snow-capped mountains and lush valleys. Picture-book vistas are around every corner with environmental protection key to this unspoiled, staggering beauty. By law, at least sixty percent of the country must remain under forest canopy for all future generations. Current figures are above seventy percent. Bhutan prides itself on being carbon neutral, but it actually absorbs more carbon than it emits, offering one of the remaining pristine pockets in the entire Himalaya.
Happiness is akin to holiness here and the nation's progress and prosperity are measured not by the standard GDP, but rather by a unique barometer known as "Gross National Happiness" or GNH. Pioneered by the fourth monarch of the country back in 1971, the GNH is set in policy and based on the pillars of equitable social development, cultural preservation, conservation of environment and the promotion of good governance. The belief is that the rich are not always happy, while the happy generally consider themselves rich. And true development of society transpires when material and spiritual development occur side by side, complementing and reinforcing one another. The philosophy of GNH has received recognition on an international level. In fact, the United Nations has implemented a resolution recognizing that the GDP does not adequately reflect the happiness and well-being of people, and that the pursuit of happiness is a fundamental human goal.