An Unexpected Compliment
Sharing Stories
Don Sivertsen | Aug 22, 2017, 1:10 p.m.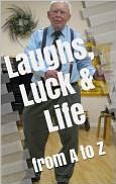 An Unexpected Compliment
Last December, I met with six of my relatives who live in Granite Falls. They brought the two young daughters of my niece's. This group visits Swanson's Nursery every year before Christmas to have pictures taken. This year, we went to the buffet after we listened to three musicians playing Christmas music on their harps. We had a lot of fun looking around Swanson's too.
While we were eating at the buffet, the younger child (ten years old) sat by me. I thought this unusual as she is most likely to stay closer to her sister and her mother, my niece Carla. While we ate, this child told me something with a lot of excitement and exuberance. But I did not understand what she'd said.
So, Carla explained to me that she had downloaded my book—the one with my picture on the cover. And her teacher read it to her.
"Did you like my book?" I asked.
"Ya," she said and smiled.
"Do you think the teacher gave me an A?" I said.
We all laughed.
I had a new admirer and a new reader from another generation!
Don Sivertsen
Don Sivertsen's book Laughs, Luck, & Life is on Amazon: https://www.amazon.com/dp/B01IFN4DD8. Miraculously regaining his ability to speak, think, and write after a debilitating stroke, the author presents a uniquely life-affirming series of funny sometimes poignant anecdotes characterized by their humble yet self-confident messages. His words—gained by accessing the "spare, unused brain cells" that weren't damaged—are a bright ray of hope served up as warmhearted humor and sprinkled with some modestly offered advice.
SHARING STORIES is a weekly column for and about the 50 plus crowd living in the Puget Sound region. Send your stories and photos to ariele@comcast.net. Tell local or personal stories; discuss concerns around aging and other issues; share solutions, good luck, and reasons to celebrate; poems are fine too. Pieces may be edited or excerpted. We reserve the right to select among pieces. Photos are always a plus and a one-sentence bio is requested (where you live, maybe age or career, retired status, etc.).
SHARING STORIES is featured on www.northwestprimetime.com, the website for Northwest Prime Time, a monthly publication for baby boomers, seniors, retirees, and those contemplating retirement. The newspaper can be found in the greater Seattle area and other Puget Sound locations. For more information, call 206-824-8600 or visit www.northwestprimetime.com. To find other SHARING STORIES articles on this website type "sharing stories" in the search function above.
Editor's Picks