Melinda Gates
A Philanthropic Life
Apr 28, 2017, 5:27 p.m.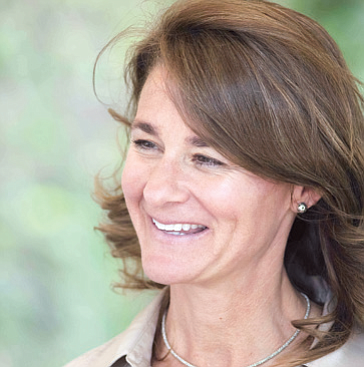 But Melinda found that she enjoyed Bill's sense of humor and was surprised at how down-to-earth he was. He was struck by her forthrightness and independence. After dating for seven years, they married in 1994.
When Melinda became pregnant a year later, she surprised Bill by saying she planned to be a stay-at-home mom. "We didn't want our children raised by somebody else," reported Melinda. She told Bill, "You know, if we want them to have the values we have, somebody has to be home."
Within a year of their marriage, together will Bill's father, William H. Gates, the couple founded what was later to become the Bill & Melinda Gates Foundation. The new foundation was, in part, to honor Bill's late mother, who was noted for her charitable work. During this same time period, Microsoft released Windows 95, which revolutionized the personal computer and, at age 39, Bill Gates was named the "Richest Person in the World" (for the first time).
Although Melinda gave up her career at Microsoft when she became a mom, she stayed very busy immersing herself in the work of the family foundation. And the direction of that work took a turn as a result of an African safari trip Melinda and Bill had taken during their engagement.
While on that safari, Melinda was shocked to see the overwhelming poverty, disease and poor living conditions. "We came back so touched by the people," she said. "I grew up in the Catholic church that has a social justice mission. In fact, they used to talk about the cries of the poor. I've heard the cries of the poor." Since that first trip, she and Bill have returned to Africa many times, where Melinda visits villages and speaks personally to the people, especially women and children.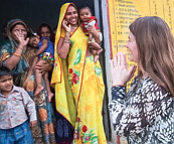 That first African experience shaped the work of the foundation in years to come, which is guided by Melinda's and Bill's shared belief that all lives have equal value, and that by giving people the tools to lead healthy, productive lives, they can help them lift themselves out of poverty. They call themselves impatient optimists.
The Gates Foundation has made remarkable progress. From working to alleviate poverty, to improving health and education, to empowering family planning around the globe, and improving technology in schools and libraries throughout the United States, the foundation focuses on the ways it can do the most good...to dramatically improve the quality of life for the most people.
Melinda's job is to figure out how to give away billions of dollars. "We go down the chart of the greatest inequities, and give where we can effect the greatest change," she explained to Forbes magazine.
One of the foundation's primary goals has been to develop disease prevention strategies, vaccines and treatments where they are otherwise unavailable. "We've done an incredible job of bringing down the number of deaths of children under the age of five," Melinda said of the foundation's work. And last year there were only 37 cases of polio worldwide. "It's the lowest number of cases we've ever had on the planet," said Melinda of the foundation's progress against polio. "We think by next year we can drive that number to absolutely zero."