Melinda Gates
A Philanthropic Life
Apr 28, 2017, 5:27 p.m.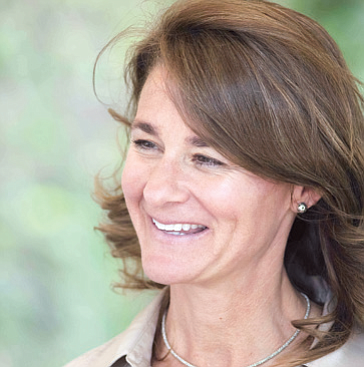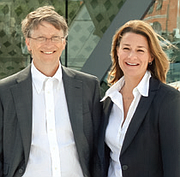 Melinda Gates has been called one of the most powerful women on the planet, and not only because she is married to the richest man in the world. Her accomplishments, determination, smarts and heart are all her own.
Together, Melinda and her husband, Bill Gates, founder of Microsoft, run the largest charitable foundation in the world—the Bill & Melinda Gates Foundation.
"It's absolutely a partnership of equals," she laughed during a recent interview with Jane Pauley on CBS's Sunday Morning program. "It's important to both of us that the world understands that we are running this place together… our joint values being played out in the world," she said. So far, the foundation that bears their names has given away nearly 40 billion dollars.
Growing up, Melinda could not have dreamed about her extraordinary life ahead. Raised in a traditional middle class family, she was born on August 15, 1964 in Dallas, Texas as Melinda Ann French, the second of four children. Her father managed rental properties on the side to make extra money for the children's college education. All the kids were expected to help out with the family business. "That meant scrubbing floors and cleaning ovens and mowing the lawns," recalled Melinda.
Her father, an aerospace engineer, and her mother, a stay-at-home mom, believed in the power of education. Her parents encouraged her love of math and computers, even though most girls at that time did not pursue those subjects. Melinda had fallen in love with the family's Apple computer (Microsoft's arch enemy), which was used to run the family business.
Melinda stayed busy with school and work, but found time to become head of the high school drill team. She was also valedictorian of her class and went on to Duke University, graduating with bachelor's degrees in computer science and economics. Her fateful decision to move to Seattle for a job at Microsoft was made shortly after she earned her master's degree in business administration the following year.
Although she had a job offer from IBM, a small start-up business had caught her attention, she told CBS. "I came out and interviewed with Microsoft. And I just thought, 'Oh my gosh, I have to work at this company. They are changing the world!' " She worked her way up to general manger of information products at Microsoft. "Marrying the CEO wasn't part of my life plan!" she said to Pauley.
"I met her at a New York City sales meeting," remembers Bill Gates. "And then it was only a week or so after that that I went up to her in [Microsoft's] parking lot and asked if she wanted to go out."
Melinda's reaction? "When we met, and Bill is CEO of Microsoft and I was, you know, all of 23, he actually asked me out for two weeks from Saturday night. And I said, 'Two weeks from Saturday night? How could you possibly know what you're doing? My schedule doesn't go out that far.' "