Joint Replacement: Weighing Individual Goals, Risks and Benefits Key to Success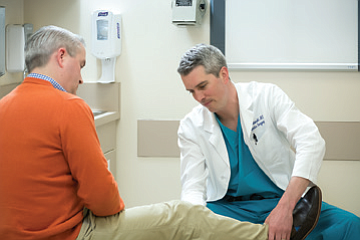 • Anterior total hip replacement – This procedure is very similar to a posterior total hip replacement, except the surgeon accesses the hip joint from the front, as opposed to the back side (posterior) of the hip. This method has gained a lot of interest over the past decade and patients can generally expect an excellent outcome, as they can from the posterior approach.
• Revision hip replacement – After a period of normal wear and tear on an artificial hip joint, parts of the prosthesis may wear out or become loose. In these cases, hip revision surgery may be recommended. It is done to repair a prosthesis that has been damaged over time due to infection or normal wear and tear. Revision surgery helps correct the problem so the hip can function normally.
• Partial knee replacement – Also known as "unicompartmental knee arthroplasty," this procedure is appropriate for people who are in good health and have exhausted conservative measures for managing knee pain. These patients may have had a torn meniscus (cartilage) or avascular necrosis (dead bone tissue) in the past that later led to arthritis in one part of the knee. For younger adults, a partial knee implant may be considered a bridge to surgically amend what can currently be repaired before further degeneration in the joint leads to the need for total knee replacement. Older adults may also be candidates, which is then expected to last the remainder of their lives.
• Total knee replacement – The implant usually consists of two parts made of chrome cobalt, titanium alloy and polyethylene plastic. The cobalt-chrome part is attached to the end of the thigh bone (femur) and a titanium alloy base plate is attached to the end of the leg bone (tibia). A polyethylene plastic "articulating" surface is then positioned between them. A polyethylene plastic "button" is attached to the undersurface of the knee cap (patella).
• Revision knee replacement – A knee replacement may fail over time for various reasons. If this occurs, a knee can become painful, swollen, stiff or unstable, making it difficult to perform everyday activities. If a knee replacement fails, your doctor may recommend a second surgery, called a revision total knee replacement. In this procedure, an orthopedic surgeon removes some or all of the original prosthesis and replaces it with a new one.
Improving your odds of success
No matter which joint replacement surgery may be most appropriate for any one patient, there are things people can do to help improve their odds of benefitting from a successful surgery, including:
• Losing weight, if necessary
• Quitting smoking
• Limiting alcohol use
• Muscle-strengthening
exercises
• Making sure other medical conditions, such as diabetes, are under optimal control
Making a personal decision
Although an orthopedic surgeon can help you understand risks and benefits of joint replacement, only you can decide at what point pain and limitation of arthritis is affecting your quality of life enough to consider surgery. Understandably, the threshold where benefits outweigh risks is different for every patient.
Final recommendation
Deciding whether to have joint replacement is a very personal choice. Work with your doctor to fully understand the plan for managing your individual risk factors before and after joint replacement.

Kevin MacDonald, MD, is a board-certified orthopedic surgeon who specializes in orthopedic oncology, adult reconstructive surgery and anterior hip replacement. He has a special interest in benign and malignant bone and soft tissue tumors, surgical treatment of sarcoma, limb reconstruction, total hip replacement, total knee replacement, revision hip and knee replacement, and partial knee replacement. Dr. MacDonald practices at Virginia Mason.
For more information, visit:
• OrthoInfo.AAOS.org
• AAHKS.org
• Arthritis.org
• AJRR.net
• VirginiaMason.org/Orthopedics