Surprises abound in OKC
Travels with Deb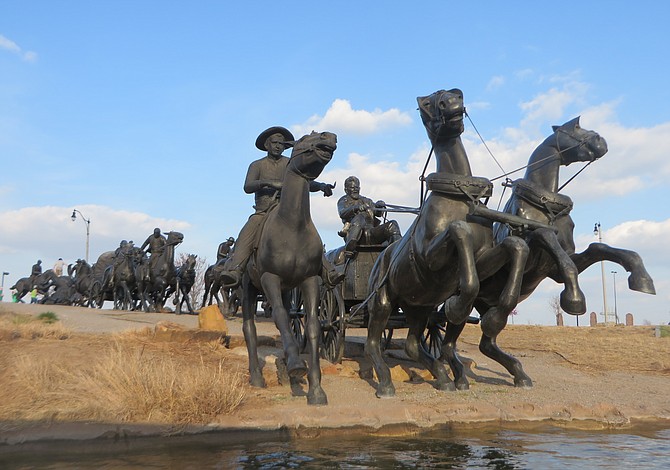 It's the initial ascent that provides the buildup to the exhilaration you know you'll soon experience. At the precipice, you look down and your heart starts thumping because you know what's going to happen next. You scream when the first shock of cold water hits and then before you can get another word out, you're careening down a wild wave train. Your raft bounces, hits a few obstacles and spins you around, forcing you to manipulate the rapids in a rear position. The only thing to do is obey your guide's commands, dig deep with your paddle and say a prayer you stay in the boat. The final rollercoaster of waves releases the raft into calm water and you take a deep breath before you and your fellow rafters yell, "More!"
If you've ever gone whitewater rafting, then the above description will sound familiar. What will come as a surprise, however, is the fact that this scenario is not taking place on one of nature's many rivers, but rather in the middle of an urban environment – Oklahoma City to be exact!
OKC's Boathouse District, which is located on the Oklahoma River in the city's downtown core, is an exciting destination for anyone looking for accessible outdoor adventure. Built with a unique blend of public and private enterprise, the Boathouse District is home to Riversport Adventure Park, a landmark attraction for locals, visitors and Olympic hopefuls from all over the country. The park offers whitewater rafting and kayaking, tubing, adventure courses, zip lines, high speed slides, pump tracks, flatwater kayaking, playgrounds and miles of paved trails. There's also a world-class, permanently lit race and training course for rowers and paddlers right on the river.
Riversport Rapids, which opened in May of 2016, has the distinction of being the only urban whitewater center in the world. This state-of-the-art facility can pump up to a whopping 492,000 gallons of water per minute, which is the equivalent to filling an Olympic size pool in eighty seconds. There are two channels or courses: international competitive and recreation. On a busy day, both are used for a variety of whitewater sports. Rapid blocks are set up as artificial boulders and can be reconfigured as needed.
Anyone can experience the Class II-IV whitewater rafting activity. You'll first get a "trip talk," where you'll learn what to expect on the water and how to paddle your raft, plus some important safety information. Then you'll be fitted for your helmet and PFD, before climbing aboard your six-person (plus guide) craft. Paddling mechanics will be reviewed with some practice time for your group to get in sync. Some folks take to paddling without much problem; others need a bit of time to fully understand that this is a joint endeavor and all must work together to help effectively navigate the raft. A conveyor belt takes you to the top of the rapids and then in an instant, you're thrust into the churning whitewater. And yes, you will get wet – soaking wet! Typically, you'll do several runs on the course, allowing you to catch your breath during the brief downtime.