Lent
Sharing Stories
James Stansberry | Apr 5, 2017, 7:10 p.m.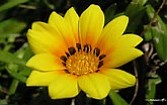 Sharing Stories
Lent
Outside my window, Spring is sending little
messages through this bright and shiny daylight
through the arms of these bare trees that have
small buds, and these sudden purple crocuses
lining the grass on my walk to the gym
and if I close my eyes, I can still remember
the ache I felt that Easter morning, so full of life
bursting everywhere, the morning after my mother
had lost her battle with cancer and my chest felt
like an anvil sat on it, as I fought off bronchitis
and I thought it was unfair for everything to be so beautiful
when I had lost so much, the hole in my soul so huge
thinking of her hands, shaking, the leukemia stealing her away
she trying to bridge the gap, and let me know how much
she loved me, and how she hated that only in that moment
dying in the hospital bed, she was able to speak above
the noise of our both trying to find the peace my father
had taken from both of us, to wrap her heart around me
and let me know, that though I'd always be "the weird kid"
she didn't care, she loved me anyway.
James Stansberry is a Seattle writer/cancer warrior/psychic/medium
SHARING STORIES is a weekly column for and about the 50 plus crowd living in the Puget Sound region. Send your stories and photos to ariele@comcast.net. Tell local or personal stories; discuss concerns around aging and other issues; share solutions, good luck, and reasons to celebrate; poems are fine too. Pieces may be edited or excerpted. We reserve the right to select among pieces. Photos are always a plus and a one-sentence bio is requested (where you live, maybe age or career, retired status, etc.).
SHARING STORIES is featured on www.northwestprimetime.com, the website for Northwest Prime Time, a monthly publication for baby boomers, seniors, retirees, and those contemplating retirement. The newspaper can be found in the greater Seattle area and other Puget Sound locations. For more information, call 206-824-8600 or visit www.northwestprimetime.com. To find other SHARING STORIES articles on this website type "sharing stories" in the search function above.