Lift your performance with healthy breakfast bars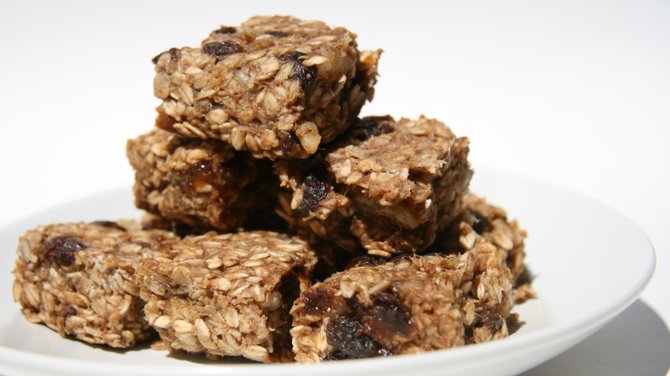 As a dietitian, I always tell people they should eat breakfast. It is indeed the most important meal of the day. Studies back up my advice: kids who eat breakfast do better in school, and adults who eat breakfast perform better all day.
Now there's a whole new group to worry about: people who skip breakfast and lunch! A recent study found that fewer than 25 percent of people take regular lunch breaks. A whopping 30 percent rarely take lunch breaks.
Sound like a good way to lose weight? Wrong. When you go that long without food, your body kicks into "starvation mode." When you eat your next meal, typically dinner, you store up a higher proportion of those calories as fat.
Think of it this way: the minutes you save by skipping meals to use commuting or for work will add up to more sick days, higher body weight, more body fat, and an overall increase in illness. I'd rather spend my spare minutes gardening or reading a book than at the doctor's office, sick in bed, or worse, with diabetes or obesity-related kidney disease. If you think your commute is long, just add three dialysis sessions a week for the rest of your life to your busy schedule.
Don't skip meals. Breakfast bars or protein bars are a quick, easy way to get some good nutrition in the morning, or when you don't have time to pack a lunch. Make a big batch on your day off then wrap them separately and freeze for later use.
Nikki's breakfast bars
2 cups quick oats
1 cup chocolate protein powder, or use vanilla protein powder and add cocoa
6 tablespoons peanut butter
1/2 cup shredded unsweetened coconut
3/4 cup milk (cow, almond or soy)
½ cup raisins or dried cherries (optional)
1 teaspoon cinnamon (optional)
1/2 of a 60 percent cacao chocolate bar (1.5 ounces)
Grease an 8-by-8-inch pan with oil or nonstick spray. Mix all ingredients except milk in a food processor. Slowly add milk until mixture holds together. You don't want it too wet and sticky because the bars will not set. Add the dried fruit and cinnamon, if desired. Spread in prepared pan and chill 20 minutes or more. Cut into 10 bars. If you want to coat the bars with chocolate, put them on parchment paper. Melt chocolate in microwave on medium power, stirring several times to avoid burning. Coat bars with chocolate, place back in refrigerator to finish setting. Makes 10 bars.
Nutritional information (including optional ingredients):
Calories: 290, Carbohydrates: 28 grams, Protein: 22 grams, Sodium: 111 milligrams
Anytime energy bars
Cooking spray
1 cup rolled oats
½ teaspoon ground cinnamon
3 tablespoons chopped, unsalted peanuts
¼ cup semi-sweet miniature chocolate chips
1/3 cup shredded coconut
3 large eggs
1/3 cup applesauce
3 tablespoons honey
Preheat oven to 325 degrees Fahrenheit. Grease an 8-by-8-inch pan with cooking spray.
In a large mixing bowl, combine oats, cinnamon, peanuts, chocolate chips and coconut. Beat eggs in a small mixing bowl. Add applesauce and honey, mix well. Add egg mixture to the oat mixture, mix well. Press mixture evenly into bottom of the greased pan. Bake 40 minutes. Let cool, then cut into bars.
Keep bars refrigerated in an airtight container for up to a week, or freeze them—they'll last several months. Try these bars with other nuts and seeds, dried fruits or fresh diced apple.
Nutritional information (per bar):
Calories: 206, Protein: 7 grams, Sodium: 35 milligrams



The information in this column is meant for people who want to keep their kidneys healthy and blood pressure down by following a low-sodium diet. In most cases, except for dialysis patients, a diet high in potassium is thought to help lower high blood pressure. These recipes are not intended for people on dialysis without the supervision of a registered dietitian.

[Katy G. Wilkens is a registered dietitian and department head at Northwest Kidney Centers. The 2013 recipient of National Kidney Foundation Council on Renal Nutrition's Susan Knapp Excellence in Education Award, she has a Master of Science degree in nutritional sciences from the University of Washington. See more of her recipes at www.nwkidney.org.]